MLL331 - Corporate Law
Year:

2020 unit information

Enrolment modes:
Trimester 1: Burwood (Melbourne), Waterfront (Geelong), Cloud (online)
Credit point(s):
1
Previously coded as:
MLL221
EFTSL value:
0.125
Cohort rule:
For Bachelor of Laws (including combined Law awards) students only
Prerequisite:

Students enrolled before 2019: Successful completion of MLL110 plus 5 additonal Law (MLL) units
Students commencing from 2019: Successful completion of MLL110 and MLL113 plus 5 additonal Law (MLL) units

Corequisite:
Nil
Incompatible with:
MLC203, MLL221
Study commitment

Students will on average spend 150 hours over the teaching period undertaking the teaching, learning and assessment activities for this unit.

Scheduled learning activities - campus

2h class + 1h class + 1h seminar per week

Scheduled learning activities - cloud (online)

2h class + 1h class (recordings provided) + 1h online seminar per week
Content
The unit provides an overview of the law in Australia governing the various forms in which businesses are conducted and aims to familiarise students with the concept of corporate legal personality. Topics include: choosing between business organisations; corporate personality; promoters and pre-registration contracts; registration of corporations; the corporate constitution; shares and dividends; corporate fundraising; appointment and removal of directors; directors' duties; and external administration.
Unit Fee Information
Click on the fee link below which describes you:
How to apply
You can apply online for this single unit via the Deakin Applicant Portal. Enter the unit code above and follow the steps to submit your application online. Once submitted, we'll be in contact via email to confirm your place.
You can apply for multiple units in one trimester in a single application or to study multiple units over subsequent trimesters, you'll need to submit a separate application for each study period.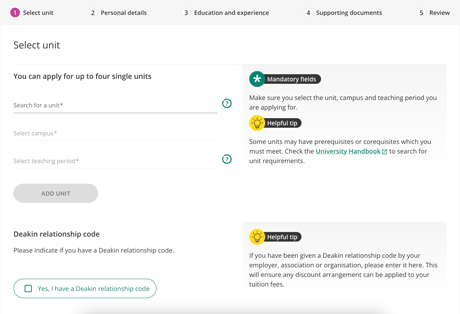 Talk to a Deakin adviser about studying at Deakin today