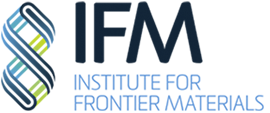 Composite seat structure project success
A unique, ultra-lightweight car seat back made from carbon fibre composite is the outcome of a successful Excellerate Australia project between Deakin University, Futuris Australia and other industry partners. The seat back offers improved structural support and interior styling.
The carbon fibre seat design offers a number of advantages over conventional designs, including large weight reduction, a stronger (therefore safer) seat structure and a thinner overall seat design, resulting in more space inside the vehicle. A unique feature of the new seat back is that it's composed of carbon fibre composite materials – previously reserved for low-volume, high performance vehicles.
While automotive manufacturers around the world strive to reduce vehicle weight, driven by the need to reduce fuel consumption, until now little attention has been given to the vehicle interiors, where front seats can weigh up to 20 kg each.
The team, led by Dr Tim De Souza, Dr Mandy De Souza and Prof Bronwyn Fox used a rigorous materials testing and computer aided engineering approach, to achieve a number of advantages, including:
A 69% weight reduction compared to the current steel frame design. Carbon fibre composite materials maximise weight saving as they are one of the strongest yet lightest materials on the market.
A 25% improvement in static strength testing. This means the seat structure can carry a heavier weight during an impact without failure, resulting in a safer seat design.
A 40% reduction in part count. By taking advantage of the design freedom offered by composite materials, compared to metal stamped assemblies, the complexity of the seat was also reduced.
Smaller design envelope. By designing to the strengths of the composite materials, the seat back architecture enabled a thinner overall seat, that didn't compromise comfort.
These outcomes were achieved using a novel 'building block' model approach and the characterisation of new rapid-curing composite materials.
The new part will mainly be used for electric vehicles, where companies require new technologies and materials to produce lightweight vehicles of the future with radical interior styling.
The design architecture, material systems and intended production process allow scalability of production volumes up to 100,000 parts per annum, a feat difficult to achieve for many carbon fibre composite products.
The project was completed in a very short time of eight months and Futuris began rolling out the front seat design six months later.
Leader of the composites group at Deakin, Prof Russell Varley, said the project was instrumental in bridging the gap for mainstream implementation of carbon fibre components into passenger vehicles. "Furthermore it is building capability around carbon fibre composite design, analysis and manufacture within Australia's automotive sector," said Prof Varley.
"The most tangible benefit of this new carbon fibre seat design will be helping to meet the needs of the new electric vehicle market and other high-volume automotive manufacturers."
Lead Engineer of the Advanced Product Development team at Futuris, Brian Storrar said he was very impressed and appreciative of the technical and entrepreneurial approach that Deakin applied to the composite seat project.
---
It was very clear from early in the project that the University's goal was to help us create a commercially viable Australian designed product that we could take to the world. The Deakin and Futuris teams integrated well together, focusing on our goals to achieve a thin, light weight, aesthetically appealing seat back that would displace more than 3kg of steel and plastic per seat. The project has been thoroughly engaging, achieved the desired results and encourages me to seriously consider further engagements with Deakin in the future.
Brian Storrar
Lead Engineer, Advanced Product Development team, Futuris Australia
---
The team included industry partners Sykes Racing, Hexion and Henkel Australia.