Encouraging social entrepreneurship
Research news
11 April 2018
Social enterprises in India have a new resource with the commissioning of the Deakin Centurion Centre for Social Entrepreneurs.
Deakin University and India's Centurion University of Technology and Management (CUTM) have set up a joint centre for social entrepreneurs.
Located at CUTM's campus in Bhubaneswar, Odisha, the Deakin Centurion Centre for Social Entrepreneurs aims to maximise social impact by changing lives, with a commitment to solving social issues by engaging the wider community across all societal levels in India to address issues such as urban poverty and empowerment of women and youth from marginalised communities.
Deakin's Vice-Chancellor Professor Jane den Hollander AO commissioned the Centre during her January visit to India as part of a Victorian Government delegation.
"The Deakin Centurion Centre for Social Entrepreneurs is a unique venture designed to use enterprise initiatives to maximise social impact and knowledge generation – to make a difference where it is needed most," Professor den Hollander said.
"Going forward, it's a partnership that will enhance both teaching and research through community engagement, networking and knowledge mobilisation, leveraging expertise, resources and facilities to benefit social enterprises."
CUTM was established in 2005 with the aim of "shaping lives and empowering communities." The University focuses on hands-on, experience-based and practice-oriented learning that makes a difference through innovation and action research, while promoting nano, mini and micro-enterprises.
Deakin first signed an MOU with CUTM in 2014, with a focus on research and mobility opportunities and the exchange, development and application of tribal and indigenous knowledge. As part of the partnership, Deakin is extending scholarship support to CUTM faculty members to participate in Deakin's In-country PhD program and other studies.
For all media enquiries please contact Deakin's media team.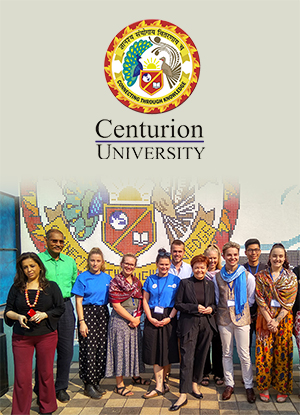 Key Fact
Deakin Vice-Chancellor Professor Jane den Hollander AO with Professor Mukti Mishra, President and Founder CUTM, Deakin's Ms Ravneet Pawha, Deputy Vice-President - Global and CEO - South Asia and a delegation of Deakin students
---