Lifetime of heart research recognised
Research news
14 March 2019
Professor Andrea Driscoll has become the first person outside the USA to receive a prestigious American Heart Association award.
The outstanding contribution of Deakin University's Professor Andrea Driscoll to research in heart failure and its translation into clinical practice has been recognised by the American Heart Association (AHA). Professor Driscoll was presented with the Association's 2018 Excellence in Clinical Practice Award at its annual conference in Chicago.
"This is an outstanding achievement and we are very proud of Professor Driscoll," said Professor Brendan Crotty, Executive Dean of Deakin's Faculty of Health.
"The award recognises Andrea's excellence in leadership in cardiovascular nursing. It is highly prestigious and has not previously been awarded to anyone outside the USA."
The AHA is the world's pre-eminent organisation for cardiovascular and stroke professionals, with over 27,000 members and over 16 scientific councils.

Victorian heart patients have been the major beneficiaries of the translational research undertaken by Professor Driscoll. Based in the School of Nursing and Midwifery, she has devoted over 20 years to nursing practice and 13 years to research into heart failure, acute and chronic cardiovascular disease, workforce, critical care and chronic disease management. She is also a heart failure nurse practitioner at Austin Health.
"I was very humbled and overwhelmed to receive the award," she said. "The AHA is the world's premier cardiovascular disease association. Over 20,000 people attended the conference in Chicago."
Professor Driscoll's research aims to improve practice in cardiovascular disease, through better health services and reduced disparities in care. Throughout her career, she has been motivated by the goal of improving outcomes for a group of patients who have a very poor prognosis.
"There are lots of measures we can take to improve their quality of life, reduce readmissions, and hopefully, prolong lives," she said.
Professor Driscoll recently completed a Victorian Department of Health and Human Services-funded, state-wide project in 16 hospitals to develop a heart failure registry. A Victorian first, the registry has given researchers and health providers valuable clinical data, including medication statistics and an understanding of the overall burden of heart failure for each hospital.
"We discovered that about one quarter of patients who are readmitted within a month have a high risk of dying," she said. "What we have learnt will help us to improve service delivery, particularly through the introduction of rapid reviews, so cardiologists and heart failure nurses can review patients in outpatients and in their home very soon after discharge and address problems early to prevent them from returning to hospital."
She added that a second important achievement of her career is the establishment of Australia's first heart failure in-patient nurse practitioner service. This service allows nurse practitioners to meet patients during a hospital admission to arrange diagnostic tests and medications, and provide education about how to manage their heart failure at home. This additional level of care has achieved a 16 per cent reduction in hospital readmissions and significant cost savings. The service is currently operating in three Victorian hospitals and a randomised control trial is in progress to investigate the potential for a national approach.
Professor Driscoll has received several national and international awards for her research. She currently holds a Heart Foundation fellowship, and has previously held an NHMRC PhD scholarship and an NHMRC postdoctoral fellowship. She is a Fellow of: the American Heart Association; the Australian College of Nurse Practitioners; and the Cardiac Society of Australia and New Zealand. She is currently a board member of Hepburn Health and a member of the Health Complaints Commissioner Advisory Council, set up by the Victorian Minister of Health.
For all media enquiries please contact Deakin's media team.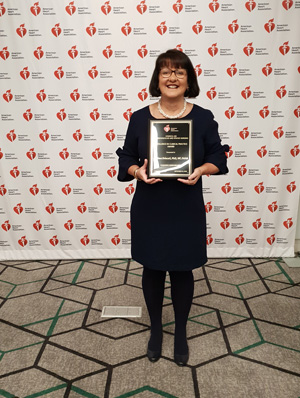 Key Fact
Professor Andrea Driscoll receiving a prestigious American Heart Association award.
---