Get a mentor
Get a mentor: Registration information for new students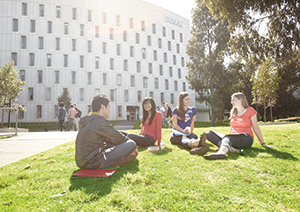 As a new student, your first few weeks at university can be daunting.
It doesn't matter if you are mature age or straight from high school, a domestic or international student or whether you have come out of a pathways institution such as Deakin College, the student mentors can assist you!
Mentors are current Business and Law students who are able to provide first-hand experience, advice and suggestions to make your time at Deakin more enjoyable and easy.
Please use the tabs below to find contact details for the mentor program at your campus.
Other University resources
There are a number of mentoring programs available at Deakin. The Drop-in Stations, which are run by the Faculty of Business and Law, can help with your study skills. There are also Writing Mentors and Language and Learning Advisers who can help you with your reading and writing. To find the mentor or study support program that suits you, visit the Studying website today.
Our mentors believe in studying smarter, not harder, and can provide tips on balancing time between working on your assignment and subject material, understanding the requirements of assignments; exam preparation; and what student life is like at Deakin.
Support new students with academic and social transition in their first trimester at Deakin
Create networks and links to the University community
Assist new students in recognising what is expected of them as Deakin students.
Immediate link into Deakin community,
Learn from shared experiences, and gain easy access to a wealth of knowledge that your Mentor has already obtained,
Find out how to be a successful Deakin student,
Clarification over academic expectations,
Opportunities to expand your social network across courses and year levels,
A senior student and also a friend to go and ask for advice,
Reference to support services in both the faculty and university,
Ways to increase your levels of confidence in transitioning into this new and dynamic environment that we operate in,
It's FREE!
Give study tips based on their own experiences
Advise students broadly on how to go about answering coursework
Assist you to become 'independent' learners
Refer you to the resources and services available in the Deakin University community.
Directly answer assessment questions
Provide a copy of their own course notes or assignment
Write your assignment
Be a unit tutor.
Where possible we aim to match new students to mentors studying the same or similar course or discipline. Subject to numbers and applications, you may be mentored in a group of two to four students.
You and your Mentor will meet and get to know each other. At this meeting you will also discuss expectations, roles, responsibilities and future meeting schedule.
Duration: the first six weeks of Trimester
Time commitment: 8-10 hours
Meeting: Once a week
We expect that you will
Have a desire to be a successful Deakin student
Respect the time and efforts of your mentor and group
Commit time to attend the first meeting, organised program events and organised team meetings
Provide timely feedback to your mentor and program coordinators and complete final online mentee evaluation form.
Register
Further information
Geelong Waterfront
Undergraduate and Postgraduate students
Melbourne Burwood
Undergraduate students
Postgraduate students
More about the Mentor Program
Last updated: Page custodian: Faculty of Business & Law