Exercise and fitness
With the recognition of the health benefits of regular exercise first appearing in the 1970's, the fitness industry is another sector that has emerged and grown rapidly in the last thirty years. Deakin graduates have played a role in the growth in fitness-based businesses finding work in a diverse range of occupations such as:
Fitness and recreation centre administration and management
Corporate health and fitness management
Personal training business management
Tertiary education at TAFE in fitness leader courses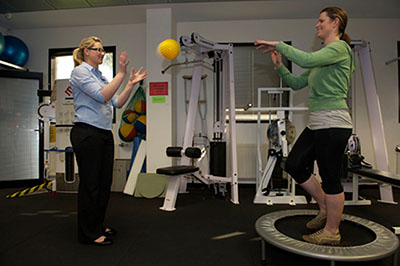 Personal Trainer, Fitness Instructor, Aqua or Gym Instructor, Group Fitness Instructor, Gym Floor Supervisor, Gym Manager, Corporate Fitness Manager, sales and administration, Fitness Centre Marketing Team Leader, program management, centre management, private owner of gym or PT facility, teaching at TAFE/University.
Gyms, health clubs, leisure centres, sporting facilities, schools, TAFEs, universities, holiday resorts, tourism resorts, hospitals, community centres, nursing homes, government agencies, cruise ships, own business, corporate gyms.
To obtain work in the fitness industry as a Personal Trainer you will need to apply for professional registration.
Many of the fitness occupations have professional associations that support the ongoing development of careers beyond university.
The core units in the Bachelor of Exercise and Sports Science align with fitness industry accreditation standards of Fitness Australia. Each of the major sequences outlined below will add to your professional development as a fitness professional.
Physical activity and health
Exercise physiology
Nutrition
Dr Jo Salmon is a Senior Research Fellow in the School of Exercise and Nutrition Sciences at Deakin University. Dr Salmon works as a behavioural epidemiologist who studies the distribution of physical activity and lifestyle disease in the population. As a full time researcher, Dr Salmon informs on health policy and practice, particularly in the area of obesity prevention among children in Australia.
Read Dr Salmon's full interview on careers in the area of fitness (PDF, 13.5KB).
Last updated: Page custodian: Faculty of Health