Public health nutrition
Public health nutrition focuses on issues that affect the whole population rather than the specific dietary needs of individuals. The emphasis is on promoting health and disease prevention.
Public health nutrition exists within an extensive infrastructure of government and non-government organisations, service and program delivery systems and the food supply system, covering production through to consumption.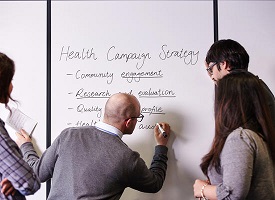 Public Health Nutritionists have skills in program planning, implementation and evaluation, and food and nutrition policy development to help improve the health of populations.
Employment can be permanent or funded short term positions.
You can become a Registered Public Health Nutritionist with the Nutrition Society of Australia (NSA) if you gain sufficient work experience and develop specialist competencies in public health nutrition.
health promotion
community education and awareness campaigns
program planning and implementation
project management
food regulation
administration
counselling and consultation
research
Public Health Nutritionist
Child Health Nutritionist
Nutrition Coordinator
Project or Program Officer
Project Manager
Health Officer
Health Promotion Officer

Public and home health agencies
Social service agencies
Community health centres
Federal, state and local government
Department of human services
Day care centres
Health and recreation clubs
Health maintenance organisations (HMO's)
Page custodian: Faculty of Health Last updated: