Public health nutrition
Public health nutrition focuses on issues that affect the whole population rather than the specific dietary needs of individuals. The emphasis is on promoting health and disease prevention.
Public health nutrition exists within an extensive infrastructure of government and non-government organisations, service and program delivery systems and the food supply system, covering production through to consumption.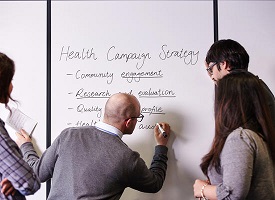 Public Health Nutritionists have skills in program planning, implementation and evaluation, and food and nutrition policy development to help improve the health of populations.
Employment can be permanent or funded short term positions.
Last updated: Page custodian: Faculty of Health