Cryostat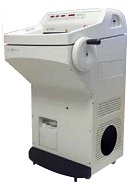 Leica CM1860 Cryostat
Leica CM1860 Cryostat
Users are to supply the following (unless utilising the core operated service):
The Facility will provide all other consumables and equipment needed for cutting sections including brushes and forceps.
Training
Step 1: Online Tutorial – Please read through the following documents
Step 2: Online Quiz – (Coming soon…)
When you are ready, email Megan Ellis to request the password for the online quiz, and submit your answers via email
Step 3: Induction – for groups up to 4 people
Once you have passed the online quiz, contact Megan Ellis to organise a practical induction. Training sessions will be held Monday – Wednesday only and will take approximately 1 hour, depending on the size of the group.
Step 4: One on one licensing.
This will consist of a supervised session for your first use of the equipment with your samples and will usually take between 1-2 hours. It is at the trainers' discretion on how many sessions you will be required to attend or be supervised for until they deem the user/s competent.
Once we are satisfied you can operate the machinery within the health and safety guidelines, you will be considered a "licensed" user and we will give you access to the booking calendar.
Instrument user guides:
Last updated: Page custodian: Faculty of Health