Use of Drones at Deakin
Flying Drones/Remotely Piloted Aircraft in Australia
At Deakin University we are bound by the Civil Aviation Safety Authority (CASA) in relation to the use of drones/remotely piloted aircraft for business and commercial purposes. The use of drones for research and other activities where aerial footage is required, forms part of Deakin's business and commercial activities.
Deakin Holds a Remote Operator's Certificate (ReOC), managed by the Deakin University Marine Mapping Group, meaning that those at Deakin University who hold an Remote Pilot Licence can operate under the University's Certificate.
The Procedure governing this activity is the Drones at Deakin Standard (DOCX, 31.6KB) which controls the use of Drones (or Unmanned Aerial Vehicles: UAV / Remotely Piloted Aircraft: RPA) at Deakin.
There are three associated documents that are required for use in specific circumstances as outlined in the standard:
All contractors employed to fly a drone for Deakin University are bound by CASA's regulations.
A Deakin manager, supervisor or staff member who employs a contractor or external business with the intention of using a drone/remotely piloted aircraft for work, must ensure the contractor/external business is appropriately licensed, has a completed risk assessment that pertains to the work they will undertake for Deakin, that all necessary approvals are in place and that appropriate public liability insurances are cited prior to work commencing.
The regulations that apply to commercial drone activity can be found on the Government website.
The CASA landing page (pictured below) assists you to readily identify the relevant section that applies to commercial work here at Deakin. It also provides you with other important information about drones and related topics.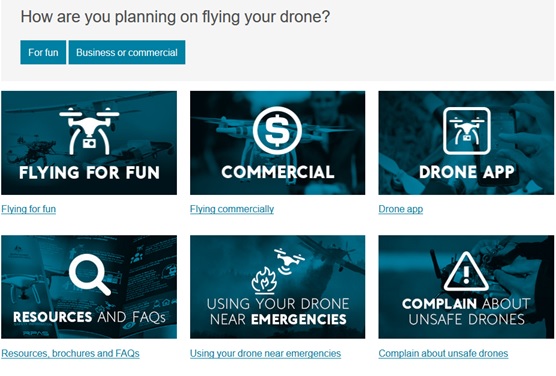 For further information please liaise with an OHS consultant in the HWS team or the Manager, Health Safety And Environment in the Faculty of Science, Engineering and Built Environment
Last updated: Page custodian: Human Resources Division