Deakin Video

Deakin Video has replaced Echo360 in Trimester 3, 2018. Powered by Mediasite, Deakin Video enables students to view and download audio and video of recorded classes and web recordings through CloudDeakin.
Browser
Mozilla Firefox (Deakin's preferred browser)
Latest version of Google Chrome
Microsoft Edge
Latest version of Safari
Mobile platform
Deakin Video is supported on the following mobile platforms:
Apple iOS: Supported on iPad and iPhone
Google Android: Supported.
Windows Surface Pro: Supported.
Media Player
Quicktime
Windows Media Player
VLC
Podcast
---
Using Deakin Video
Deakin Video is accessible via the Content area of your CloudDeakin site and is a central place where you can:
access all the audio or visual presentations listed for your unit
play (stream) a presentation using the Deakin Video player
download a presentation so that you can view/listen offline

The presentation list is automatically updated as presentations become available.
Note: Not all classes are using Deakin Video recordings. Teaching staff may also link directly to the individual presentation in the unit site. For further queries about the Deakin Video presentations, please contact your Unit Chair. You can find your Unit Chair's contact details on Unit Site Home Page or refer to your Unit Guide. For technical queries, please contact the IT Help.
Play/stream a presentation
Class captures can be viewed as a recording or via a live stream. Access your desired presentation from Content or via a CloudDeakin news item.
To watch a pre-recorded presentation, click on the Play button in the centre of the presentation or select Watch situated under the presentations title.
Live stream presentations will appear with 'Waiting for broadcast to begin' on the screen.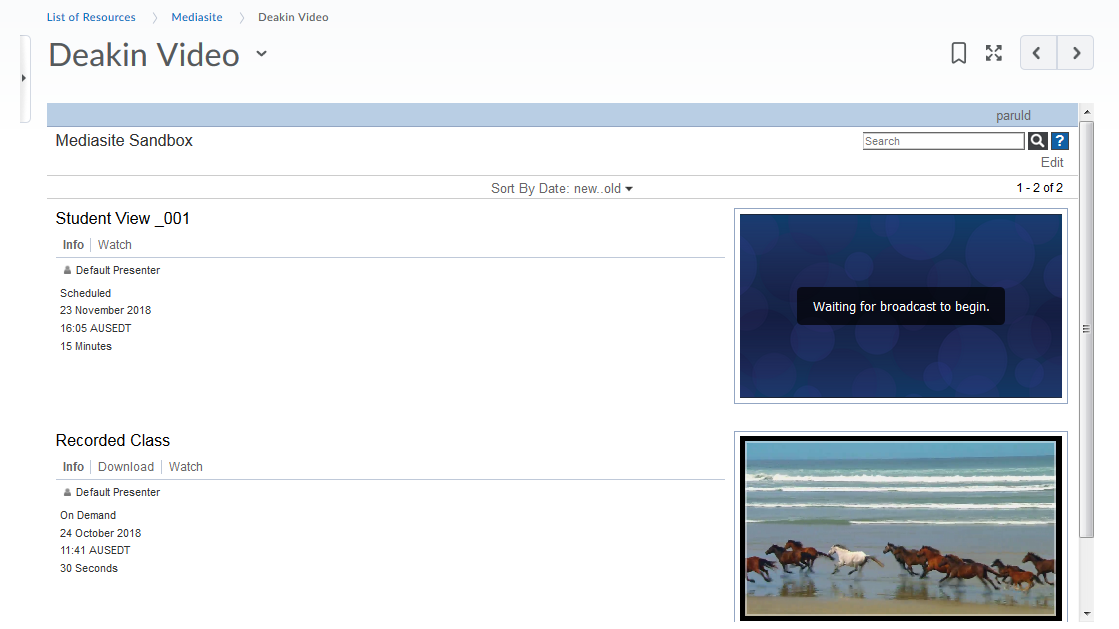 If selecting play from the main screen, click the symbol in the top right-hand corner to pop out and expand to full screen.
If selecting WATCH, the presentation will open in full screen.
In the Deakin Video Player, use play, pause, skip back and adjust playback rate buttons to control playback and use the volume bar to adjust volume.
Download a presentation
If you want to download a presentation, you will have the following options under the Download section:
Audio (Podcast) MP3 file. An audio file available for download immediately.
Video (Composite Video) MP4 file. The video file will appear under the download tab once the presentation has been processed. Note

: A video file will not be available for audio-only recordings.

Publish To Go Zip file. Publish To Go is provided as an alternative option to Podcast and Vodcasts. A portable version of a presentation you can view without being connected to a network, delivered as a .zip archive file. The .zip file contains all of the rich media and player components necessary to watch a presentation locally on your computer and enables the same viewing experience as though you were watching it online. This file is lower in quality and download size.
Selecting Publish to Go will download a zip file to your computer. You will be required to extract all contents from the Zip file and select the Default.html file to view the presentation.
To download a presentation to your IOS device, you will need to download it on your computer first and transfer the file via iTunes.
Searching in a presentation
Deakin Video presentations now have Optical Character Recognition (OCR) enabled. Presentations are converted into text-searchable documents once the live or recorded session has been completed.

You can use the search function to locate specific text that may have appeared during the course of the video.

In your presentation, click on the Search button in the bottom right corner of the window.

The Search Slides and Closed Captions text box will appear. Enter your text and click Search.
You can use the timeline marker to select the indicated time in the video in which the text appears.
Last updated: Page custodian: Deakin Learning Futures