Get work-ready
Gain experience through innovative practical programs, including professional practice units, giving you a minimum of 80 hours work experience in a course-related organisation and allowing you to apply the knowledge gained in your course. You'll experience workplace culture and workplace practices, explore career options, develop a professional network and prepare for real-life settings in which today's science graduates work.
Undergraduate
Undergraduate (your first degree)
An undergraduate degree is generally completed between two to four years, depending on the pattern of study and any recognition of prior learning you may have. Associate degrees, bachelor and bachelor with honours are all undergraduate degrees.
Postgraduate
Postgraduate (further study)
A postgraduate qualification can be undertaken by students who have already completed an undergraduate degree or possess significant, demonstrable work experience. Postgraduate courses include graduate certificates, graduate diplomas, masters and PhDs, as well as specialist programs for industry professionals.
Research
Higher Degrees by Research (supervised research)
Research degrees are research based master's or PhD programs that focus on a single area of expertise. They provide students the opportunity to carry out highly specialised research under expert supervision.
Career opportunities
Studying science with us gives you potential opportunities to be involved with scientific developments that hold the key to the future, with breakthroughs being discovered every day.
A science degree can lead to work in a range of fields, such as:
agriculture
animal health
biotechnology
education
forensics
food technology
pharmaceuticals
the general health and medical industry.
Endless possibilities
Our Bachelor of Science allows you to start with a broad program of science in first year, before specialising in your interest area in the following years. Choose a specialty area from biology and chemistry through to mathematical modelling and environmental science. Our course will help prepare you for a range of real-life settings.
Deakin is ranked in the top 1% globally for life sciences and medicine.* This rating highlights Deakin's world-class facilities, academic reputation, employer reputation and research impact.
Science and biomedical science at Deakin
Hear from two students as they reveal their passion for science and biomedical science, the diverse study opportunities and the benefits of the hands-on, practical approach at Deakin.
Life and environmental science facilities
Explore Deakin's life and environmental science facilities at our Melbourne Burwood Campus, featuring modern labs and equipment, and the ability to conduct practical work in the natural reserve and creek right by campus.
Work-integrated learning
Our work-integrated learning (WIL) program lets you incorporate a full or part-time industry placement as part of your degree, enabling you to develop the skills employers value. It also prepares you for the real-life settings in which today's science graduates work.
WIL placements are designed as elective units and are credited towards your degree. Some placements also come with an industry-funded scholarship.
Communicating science
Study science at Deakin and develop practical skills for creating science communications across multiple formats, and for different audiences. You'll work with expert teaching staff and collaborate with industry on real-world science communication projects.
The most important aspect of Deakin is the hands-on practical experiences with small class numbers.
Shenae Ryan
Science student (animal biology)
Learn more about Shenae's experiences
'I originally started my degree at another university but wasn't receiving the help that I needed due to extremely large class numbers. I left that university and applied to Deakin with no regrets whatsoever.
During high school, I was told to pick another career to work towards as my grades weren't high enough to be a vet. Even though I really tried, my teachers were correct. However since leaving high school and focusing solely on animal biology, I have excelled and even received outstanding achievement awards in my animal biology units. With the right help and resources from Deakin, I have been able to successfully complete my units with great results. Once I finish, I hope to do further study in Veterinary Medicine and become a vet.
All of the teachers have been more than approachable, friendly and happy to help. There are amazing facilities that are available to students, as well as many events and student clubs.'
Accreditation
Deakin's Bachelor of Science chemistry major has been professionally accredited by the Royal Australian Chemical Institute (RACI). Students who graduate with the chemistry major as part of the Bachelor of Science can apply for membership of the respective local branch of RACI.
Research that matters
The School of Life and Environmental Sciences covers a variety of research areas, from wildlife and conservation biology through to synthetic chemistry and physiology. If you've specialised in an area and would like to develop your thoughts even further, take on a higher degree by research with us.
Beginning of dialog window. It begins with a heading 1 called "Registration Form". Escape will cancel and close the window.
Subscribe
Latest news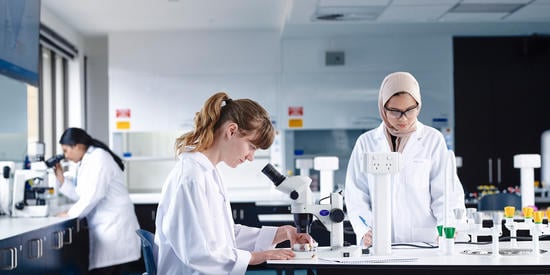 Kickstart your science career with Deakin's Bachelor of Science
Love science but unsure about committing to a specialist degree like chemistry or marine science? Deakin's Bachelor of Science might be your perfect fit.
Browse other disciplines within sciences
Choose an area that you're interested in and learn how Deakin's extensive range of study options and experiences can help turn your dreams into reality.
Footnotes
*2022 Times Higher Education World University Rankings by Subject.