CloudDeakin
CloudDeakin is currently unavailable
CloudDeakin for Students
Guides for students seeking assistance using CloudDeakin and associated applications.
Student Help & Guides
CloudDeakin for Staff
Guides for staff seeking assistance creating resources for CloudDeakin and associated applications.
Staff Help & Guides
CloudDeakin Enhancements
The new unit Home page (from T1 2016) has refined navigation and introduced some new tools to improve student engagement. The new look and feel of the Home page of unit sites aligns with the Deakin Public Website project and DeakinSync. The changes include:
Colour and icons

Minibar in teal colour
Headers in blue colour
New folder icon in Resources widget
New collapse and expand icons

Link back to DeakinSync on minibar
Navbar
Discussions added to navigational bar for easier access
My Tools menu item has links to DeakinAir, Locker and UserProgress
More menu item has links to Classlist, Groups and Media Gallery
Video Post widget enables Unit Chair to display videos from their DeakinAir account. The video post could be used for welcome videos, quick announcements, relevant industry videos or events of interest to students.
Student help widget allows easy access to important links.
My Toolkit widget allows teaching staff to access important tools and features, as well as resources for understanding how these can be used to enhance student learning.
Unit Staff widget helps to improve communication between staff and students, and develop a more personalised experience for students by knowing who their relevant lecturers or Unit Chairs are on different campuses.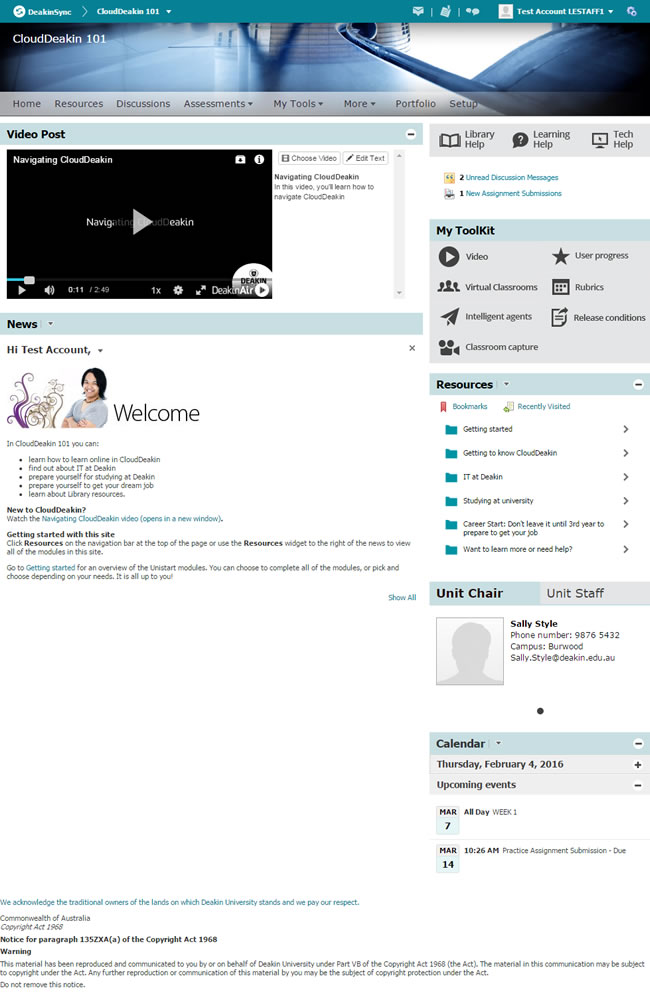 Page custodian: Deakin Learning Futures Last updated: