Missed out on getting in to Deakin? The Deakin College pathway is an amazing way to get into your preferred Deakin course.
What is Deakin College?
Deakin College provides a fast-track pathway into Deakin undergraduate and postgraduate degrees. A partner with Deakin since 1996, Deakin College (formerly MIBT) conducts classes on three Deakin campuses: Burwood, Geelong (Waterfront) and Geelong (Waurn Ponds). Once students complete a Deakin College diploma and satisfy Deakin's academic entrance criteria, graduates will be offered a place at Deakin to commence second year studies.
What can I study at Deakin College?
Certificate IV in Tertiary Preparation Program – this leads into Deakin College diplomas or selected first year degree programs at Deakin.
Diploma programs – diplomas are offered in commerce, media and communication, computing, engineering, health sciences, management and science. Upon completion, students enter second year bachelor's degrees at Deakin.
Postgraduate Qualifying Program (Business and Law) – this is for postgraduate students looking to gain entry into the first year of selected master's degrees at Deakin. Please note that this course is only available to international students.
Benefits of studying at Deakin College
Access to all Deakin facilities and services
Fast-track your way into a Deakin degree
Small class sizes gives you closer support from your tutors
Three intakes a year (March, June and October)
Interested in more information?
Check out Deakin College to learn more about this great pathway to Deakin.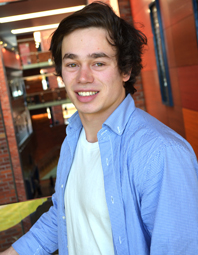 'I had no idea what to expect, or if I was capable of going back into an academic environment after being out of high school for so long. That said, I was really amazed at all the help and support I was given at Deakin College. I've learnt some interesting academic skills as well as valuable life skills, and at the same time I've made some amazing friends and had a lot of fun! As a Deakin College ambassador, I also really appreciate the chance I have to meet Year 12 students and talk to other potential students who, like myself, never thought that they'd ever go to university.'
Jacob Coreno, Bachelor of Commerce, majoring in economics, finance and financial planning.