Telstra Trading Room

Gain invaluable knowledge and first-hand trading experience in Deakin's brand-new, state-of-the-art Telstra Trading Room.
The Telstra Trading Room is a unique collaboration between Telstra and Deakin University, and functions like an interbank FX trading floor. Deakin is proud to be one of only few Australian universities that offers trading curriculum in a high-tech teaching space to undergraduate and postgraduate students, as well as external companies interested in training their staff in a real-life environment.
With practical learning ever so important, this experience will give you an insight into the workings of the foreign exchange market as well as exposing you to real-world economic scenarios.
Take all the theoretical knowledge you have gained about risks, pressures and strategy formulation issues and develop your practical skills during a Telstra Trading Room simulation.
---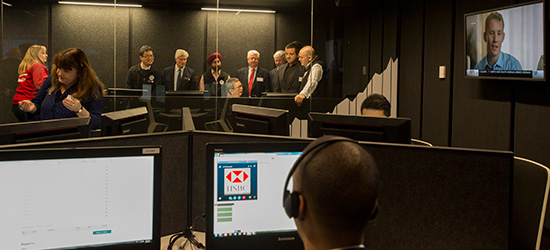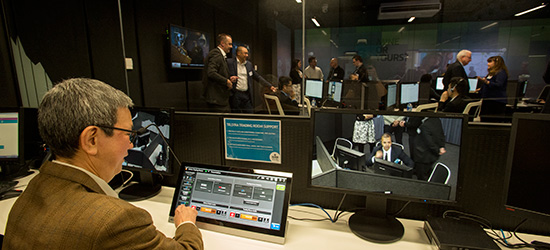 How it works
The Telstra Trading Room features all the state-of-the-art equipment including tickers, ASX and Bloomberg real feeds on the trading wall, giving you the opportunity to experience the fast-paced nature of the trading world first-hand.
The custom-made facility comprises 15 banks named after real-world institutions. Each bank can facilitate a team of three students, each taking on essential roles in the trading process: dealer, position keeper and risk manager.
Sessions run for approximately 1.5 hours and facilitate a post-session debrief, during which you and your team will be able to assess trading results and outcomes.
What you will get out of it
Through trading reports you will develop your team-work capabilities, critical thinking and analysis and your written communication skills. Associated learning outcomes will develop you to:
understand dealing practices and conventions in the foreign exchange market
coordinate front office and back office functions of a simulated bank's treasury dealing room
account for and settle transactions completed in the simulated treasury dealing room
develop and analyse dealing strategies in the treasury dealing room
analyse and manage positions taken in the treasury dealing room.
Although the Telstra Trading Room is a simulated environment, the decisions you and your team make are not pretence and are based on real-life economic scenarios.
---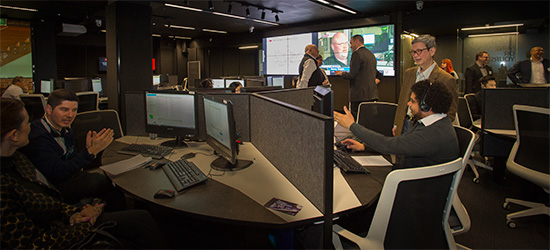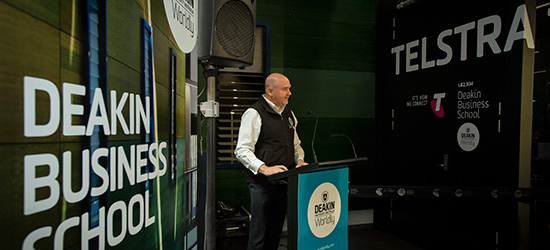 ---
More information:
The Telstra Trading Room is a progressive teaching space, placing our students at the cusp of the digital frontier. The teaching space will also be available to external companies and industry for training purposes. For more information please email us at buslaw@deakin.edu.au.
Page custodian: Faculty of Business & Law Last updated: