Deakin wins higher education 'Oscar' in Philadelphia
12 December 2014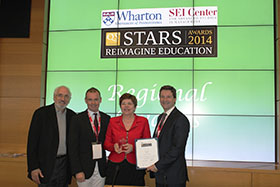 Australia's Deakin University has received international recognition for its online and distance teaching excellence by the prestigious university rankings organisation QS and the world's top business school, the University of Pennsylvania's Wharton School of Business.
Deakin received an award for the best innovation in Oceania based on the success of its first Massive Open Online Course (MOOC) and the subsequent development of pioneering digital learning environments across the University.
Deakin was the only Australian University winner at the inaugural Wharton-QS Stars Awards 2014: Reimagine Education, the 'Oscars' of innovation in higher education involving 427 universities and enterprises from 43 countries submitting applications to a panel of international experts.
Accepting Deakin's award in Philadelphia, Deputy Vice-Chancellor (Education) Professor Beverley Oliver said the innovations developed for the MOOC placed the University at the cutting edge of assessment and digital learning.
"Deakin has an ambitious agenda to use innovative digital solutions to provide a brilliant education and maximise our student employability," Professor Oliver said.
"Traditional learning management systems seldom support emerging pedagogies to realise these ambitions, so we designed our own MOOC to reimagine what could be done in the cloud to assure students achievement of key capabilities."
The MOOC – 'Humanitarian responses to 21st century disasters' – was run in 2013 in an open learning space known as DeakinConnect and took an entirely new approach to delivering open online courses through its look, functionality, interactive capabilities, and innovative approach to assessing student achievement.
"The MOOC was more than just a course offering for aid workers, it was a trial run for a host of pioneering developments we are now incorporating across the University," Professor Oliver said.
"We took what we learnt from that innovation and incorporated it into DeakinSync, an elegant 21st Century digital environment that gives students access to cutting-edge communication tools, support services, course materials and portfolios where they can curate evidence of their achievements and social media access to share with potential employers."
In recognising Deakin as a leading innovator in higher education, QS Managing Director Mr Nunzio Quacquarelli, said:
"The panel of distinguished international judges have voted Deakin Connect as the best application from the region and we hope that the recognition will encourage Deakin University to continue to innovate for the benefit of its students and the sector at large".
Professor Oliver said Deakin was pushing the digital boundaries to make the student experience the best it can possibly be.
"Next year, DeakinSync will provide students with 24/7 access to advice powered by IBM Watson – the first University in the world to do so," she said. "It is very exciting to have the Reimagine Education awards recognise our ground-breaking strides to redefine the University's digital learning spaces and give our students the tools that are designed to maximise their success," she said. "All of this started with a single – and now award-winning – online course, and we look forward to building on our work to revolutionise the student experience."
Media contact
Sarah Dolan
Director, Media Relations and Corporate Communication
03 9246 805, 0400 669 164
Email Sarah

You might also like:
---
---
---
---
---
Page custodian: Vice-President (Advancement) Last updated: