Deakin University named International Education Provider of the Year
9 September 2014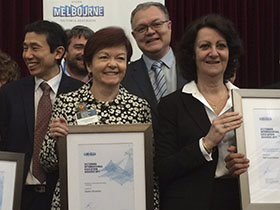 Deakin University's reputation as a provider of excellent international education was recognised with three prestigious awards today.
The University received the Premier's Award for International Education Provider of the Year and won two other 2014 Victorian International Education Awards: Excellence in Education (University) and Excellence in International Education (Student Employability and Careers).
The awards were announced by the Minister for Employment and Trade, Louise Asher, at a ceremony at Parliament House today.
Deakin's Vice-Chancellor, Professor Jane den Hollander, said taking out three awards in the prestigious Victorian International Education Awards was a proud day for the University.
"I am delighted for our staff and students. At Deakin being globally connected isn't just something we do, it is at the core of what and who we are," Professor den Hollander said.
"We are very proud of our international students and what they achieve, and thank them for bringing so much to our community and to our University.
"These awards are welcome recognition of the value we place on encouraging and nurturing the lives of our students, from teaching and learning, to engagement with our local communities and supporting them in seeking work after graduation.
"The cultural diversity on our campuses enriches all aspects of academic and social life and helps our international students, our regional students and our metro students learn from each other.
"It also encourages approaches to teaching, learning, research and community engagement that are both innovative and relevant to our increasingly globally connected world."
Deakin's commitment to international education was recognised, among other things, for:
a global citizen program that provides international students with additional opportunities to expand their engagement in the local community and boost qualities sought by potential employers
an internship scheme
its strong reputation in international teaching and research in a range of fields, including the dual degree program in communications with the University of Indonesia
English language training
The Victorian International Education Awards (VIEA) recognise and celebrate leaders in Victoria's international education sector and the outstanding achievements of international students.
Media contact
Sarah Dolan
Director, Media Relations and Corporate Communication
03 9246 805, 0400 669 164
Email Sarah

You might also like:
---
---
---
Page custodian: Vice-President (Advancement) Last updated: