Why choose Deakin?
Research with impact
Do you believe in the power of a great idea to change the world for the better? At Deakin, not only do we believe, but our researchers are making a positive impact on the lives and well-being of people - not just in Australia, but around the world - through world-class innovation and research.
Using our industry, government and institutional networks, we're striving to build on our global research footprint.
To help us achieve this, we're seeking the best and brightest research candidates from around the world.
Deakin recognises that to be a global university, we need to make innovation and collaboration our core business, growing our research capacity. We are proud to be able to provide our research students with access to world class facilities, a network of academic supervisors who are leaders in their fields, and a large range of research disciplines.
Our strong commitment to research can be seen in our excellent performance in the latest round of the Australian Research Council's "Excellence in Research for Australia" (ERA) rankings.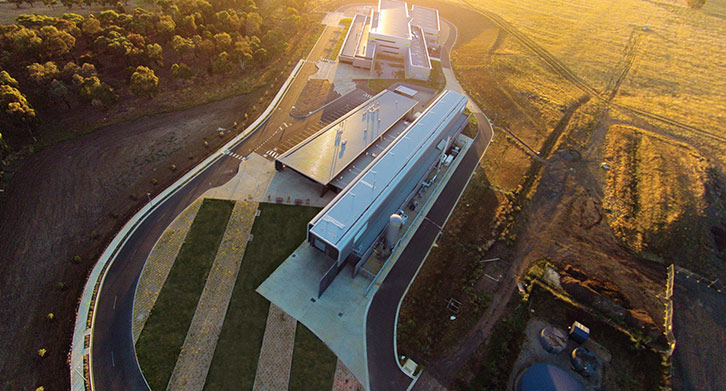 Carbon Nexus, a globally unique, open-access carbon fibre/composite research facility - located on our Geelong, Waurn Ponds campus.
Deakin's research portfolio expands across many areas and is world-class.
Deakin offers research across a broad portfolio, in areas such as advanced materials, biotechnology, built environment, ageing and chronic illness, citizenship and globalisation, intelligent systems, natural resource management, physical activity and nutrition, education, and social and mental health. We are proud to be making a difference to local and global challenges through research in disciplines such as these.
Deakin's research footprint is highlighted by two Research Institutes and 14 Strategic Research Centres, which pool expertise and resources into world-class concentrations of research. Many high-calibre research projects are also undertaken directly within the four faculties, where facilities and expertise provide outstanding environments for researchers.
Deakin offers a wide range of courses in various fields with expert supervisors.
When you become part of Deakin's research community, whether it be in one of our Research Institutes, Strategic Research Centres or Faculties, you are joining a network that is increasingly being recognised around the world. You also become part of a genuinely cosmopolitan research community – with researchers coming from more than 40 countries!
Through early, then mid-career training and mentoring programs, our researchers are provided with excellent support - and stimulating experiences.
Deakin supervisors are passionate about supporting new researchers in their endeavours. Indeed, their enthusiasm and expertise are often cited as key drawcards by Deakin research students. This is reflected in recent annual student surveys where supervision is one of the highest ranking categories.
Most Deakin researchers have opportunities to work with partner collaborators nationally and internationally, and to present at international conferences. Most areas have an in-house seminar program, where students are encouraged to present to colleagues and peers, provides valuable presentation experience and research feedback in a supportive environment.
Deakin is a research-driven institution attracting millions of dollars in grants and numerous national and international partnerships with excellent research facilities.
Deakin is committed to providing state-of-the-art research facilities. During the past two years, we have opened the $80 million Deakin Regional Community Health Hub (REACH), the Geelong Technology Precinct, and the Australian Future Fibres Research and Innovation Centre (AFFRIC), which is home to the $34 million Carbon Nexus.
Carbon Nexus is a carbon fibre plant that provides an international centre of excellence for fibre science, materials and manufacturing research. It incorporates a 20 ton p.a. carbon fibre pilot line and fully equipped laboratories, integrating high-level research capabilities with industrial scale infrastructure.
Infrastructure investment is continuing, with the $55 million Centre for Advanced Design in Engineering Training (CADET), set to be completed by the end of 2015. CADET will offer the most advanced engineering and design training capabilities in regional Australia. It will house virtual and real prototyping facilities, and a range of laboratories, design studios and interactive learning spaces.
Deakin is also investing heavily in laboratories and equipment across all campuses. For instance, the motion capture and performance technology studio at Burwood campus, Deakin motion.lab, offers outstanding digital/creative research facilities, while, at the Warrnambool campus, the purpose-built research vessel 'Yolla' provides marine biologists with access to one of the world's most advanced multi-beam sonar systems.
Page custodian: Deakin Research Last updated: