Something for everyone
Geelong is a remarkable city and the second-largest in the Australian state of Victoria.
There are plenty of opportunities for you to immerse yourself in the local culture in Geelong, with people from all over the world living and studying in harmony. From public art scattered along the foreshore to historic buildings downtown, there is so much of its original small-town charm still visible in this now vibrant city.
Geelong is surrounded by an abundance of world-famous tourist destinations. Take a drive along the Bellarine Peninsula or the Great Ocean Road and visit Bells Beach, the Twelve Apostles or the Great Otway National Park.
There are a wide range of events that define Geelong's energy throughout the year, from local Australian rules football games to music festivals, international cycling competitions, the Australian International Airshow, and more.
Whether you choose to get among the lively local city culture or relax at the beach and enjoy a picnic with friends, there is something for everyone in Geelong.
What it is like to live in Geelong
Getting around
Geelong has a system of trains and buses to help transport you around the city and beyond. It uses the same reloadable ticket that Melbourne uses – a small credit card sized ticket called myki. Geelong is a great city for driving, with far less traffic than Melbourne, and has rideshare options available.
Health services
Healthcare in Australia is among the best in the world and Geelong is no different with first-class medical centres and late-night pharmacies scattered throughout the city.
Working in Geelong
Geelong has a thriving economy with a wide range of industries represented in the workforce. Most students can work up to 20 hours a week during study periods, depending on your visa.
Supermarkets
From local fresh produce to international brands, there is a range of food options for you to purchase in Geelong. As well as large supermarket chains, there are also smaller Asian and Indian supermarkets.
Cafes and restaurants
Geelong's food and drink scene is a multicultural hub boasting some of the best restaurants in Victoria. Taste the fresh and abundant local produce and some of the world's best coffee.
Learn more about dining out in Geelong
Weather
It is best to pack for all occasions when staying in Geelong. You can expect low humidity throughout the year, with cool winters averaging 11 degrees Celsius during the day, with lows of 6 degrees. In summer the average during the day is 22 degrees, with highs of up to 40 degrees.
Arts and heritage
Geelong is Australia's first and only UNESCO City of Design. Take a walk through the city, and you will come across restored colonial-era buildings, galleries, breweries and even an original hand-carved wooden carousel. Australia's leading performing arts companies visit Geelong for performances, and there are festivals galore!
Nature and wildlife
Take it at your own pace and discover the serene beaches in Port Phillip Bay or head towards the open ocean beaches on the other side of the peninsula. You might hear the songs of native birds on your journey to the shore, or even spot dolphins and whales once you get there.
Along the many bushwalking paths keep your eye out for adorable koalas high up in the trees, native flowers and shrubs, and age-old gum trees. Remember to also look down in case you stumble upon lizards, echidnas and kangaroos.
Visit Edwards Point Nature reserve or Begola Wetlands to follow flocks of pelicans and spot some frogs along the way. Make a day of it and pack your lunch so you can stop at the beach and take in the natural beauty of the greater Geelong region.
Australian Football League
Join the masses of locals and support the AFL team Geelong Cats. Head down to the GMHBA Stadium on a Thursday or Friday night and join the excitement of a roaring crowd of up to 36,000 people. AFL is a national sport that defines fans, and supporting a team is a must!
Meetups, clubs and societies
There are so many ways to meet new people and feel at home in the community. From bushwalking groups, meditation classes, book clubs, International Aussie Footy Fans clubs, and more, there is bound to be a meetup or club for you.
There are lots of clubs and societies specifically for students, including the Geelong International Student Association (GISA). GISA hosts events and activities to give students the opportunity to meet like-minded people and develop a supportive network of friends while living and studying in Australia.
Deakin University students can join clubs on campus too, we have clubs and societies related to courses, sports and other interests, and you can always start your own if you want to!
I can confidently say that deciding to live and study in Geelong has been one of my best decisions. Apart from the calmness and serenity of this place, it has the most hospitable people who are happy to help you and the landscape is just amazing.
Aayushree, Nepal
Master of Biotechnology and Bioinformatics
Deakin's Geelong campuses
Deakin University is a large part of Geelong's thriving culture. Our two Geelong campuses are engaging student hubs that offer interactive study spaces and world-class facilities, which embrace the welcoming atmosphere that characterises Geelong.
Deakin's Geelong Waterfront Campus is located on the Corio Bay, and the Geelong Waurn Ponds Campus is on the western edge of Geelong.
Geelong Waterfront Campus
Take in the spectacular views of Corio Bay while you study at Deakin's Geelong Waterfront Campus. Its convenient location in the heart of Geelong means you can visit the city's central business district (CBD) between classes.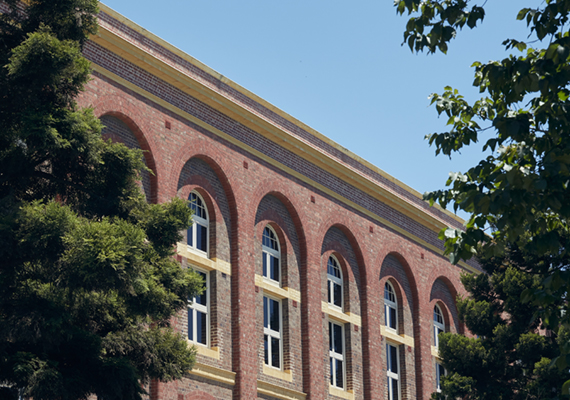 Geelong Waurn Ponds Campus
Expansive grounds and innovative buildings define Deakin's Geelong Waurn Ponds Campus. It is home to cutting-edge engineering, medical and sport facilities, as well as some of the world's most advanced material science research spaces.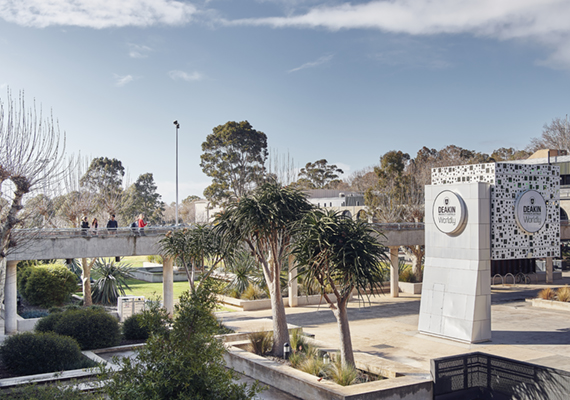 Study Geelong
Study Geelong is a fantastic resource to discover more about studying, living and working in Geelong, with contributions from current international students living in Geelong. They also offer helpful programs such as career mentoring.
Accommodation and cost of living
A big bonus of Geelong is the price tag. Housing alone can be up to half the price of that in Melbourne.
Your money will undoubtedly take you further in Geelong, so you can enjoy all of the restaurants, museums, markets and weekend trips you had imagined you would.
In addition to tuition fees, there are many other costs that contribute to your daily spend when you are studying in Australia.
Costs can vary depending on where you live, but you are likely to spend less on living and study expenses in Geelong than you would in Melbourne.
Learn more about accommodation and cost of living for international students
Contact us
To learn more about Deakin and how we can help you start your education journey, get in touch today.
Phone: +61 3 9034 6205
WhatsApp: +61 4 8888 2109
Email us