Deakin Spine
Works are now complete on the Burwood Pedestrian Spine Landscape Upgrade, the area informally known as Mutant Way. The redevelopment provides a contemporary, distinctive campus feel and opens the space for students' enjoyment.
Project Manager: Mike David 03 9251 7728
Status: Complete
Architect: RushWright Associates
Lead contractor: Ace Landscapes
---
The Deakin Spine at the Melbourne Burwood Campus provides pedestrian pathways to several buildings. It is a venue for key University events such as Orientation Week and the Student Services Carnival.
---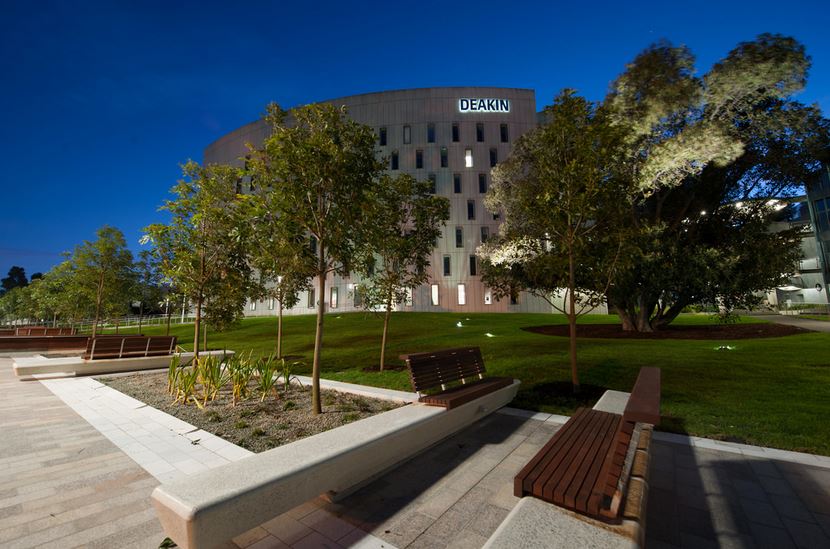 A variety of outdoor seating with integrated power and Wi-Fi infrastructure, diverse native planting, barbeque facilities and solar lighting create a functional open-plan outdoor area.
Pathways have been reconfigured to improve accessibility for pedestrians. Awkward stairways adjacent to the water feature has been removed in favour of easy step and pathways framing new sprawling lawns.
The iconic fountain, a favourite talking point among students, remains the centrepiece of the walkway.
The look and feel of the space now enhances engagement between staff, students and visitors to the University.
Page custodian: Facilities Services Division Last updated: