Deakin Spine
The Pedestrian Spine at the Melbourne Burwood Campus provides pedestrian pathways to several buildings. It is a venue for key University events such as Orientation Week and the Student Services Carnival.
Project Manager: Mike David 03 9244 6244
Status: Construction
Architect: rush\wright associates
Lead contractor: Ace Contractors
The key objective for this project is to enhance the look and feel of this space by providing additional shade and seating, improved pathways and way-finding, integrated Wi-Fi infrastructure and beautiful garden beds.
Features of the Deakin Spine:
Improved natural stone-coloured granite paving
New garden beds filled with colourful native plantings
Wide mature canopy trees to provide extra shade
Improved Wi-Fi infrastructure
Concrete-and-grass water feature will be replaced with a large sprawling lawn. The water fountain will remain.
Various feature lighting
Improved pedestrian ramp and landscaped steps to connect the pedestrian spine easily to Building G
Reconfigure paths to improve pedestrian accessibility
Provide a secondary pedestrian spine parallel to the main concourse
New seating and benches
New timber-decked BBQ area with outdoor furniture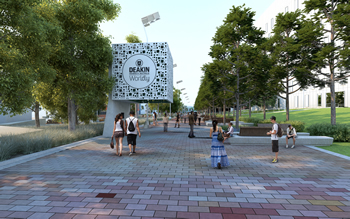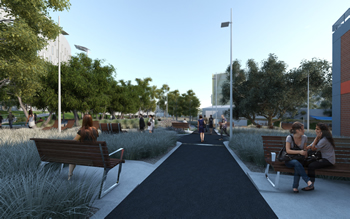 Page custodian: Digital Presence, eSolutions Last updated: