Burwood Highway Frontage Building
The completion of the Burwood Highway Frontage building (Building BC) is an exciting milestone for Deakin University. The new building is a culmination of many years of design and creates a major impression and a stylish arrival point to our Melbourne Burwood Campus.
---
Project Manager: Amanda Harris 03 9251 7728
Status: Completed (Defects liability)
Architect: Woods Bagot
Lead contractor: Hansen Yuncken
---
The lower floors of Building BC will serve as an invitation to the local community to engage with Deakin. Through hospitality and event spaces, the Merchandise Shop, a Visitors' Information Centre, and a new Burwood Corporate Centre, Building BC will provide new opportunities for community integration. The new licensed café will open later this year to provide another option for all Deakin staff, students and visitors.
---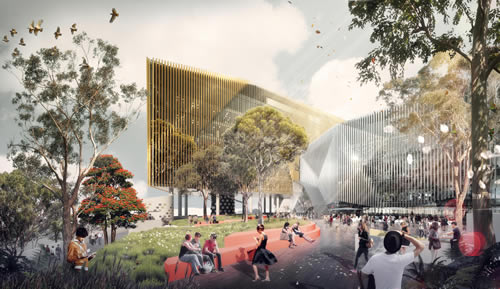 More than 320 staff members from the Faculty of Health have now moved into Levels 3, 4 and 5 of Building BC, with the rest to follow in the coming months. This relocation brings together the School of Psychology, School of Social Health and Development and the Office of the Pro Vice Chancellor (Health) from their previously scattered locations over six buildings.
Building BC features environmentally sustainable design elements, including a high performance facade, under-floor air distribution, active mass cooling, low energy usage, high water efficiency, solar hot water heating and sustainable materials. The building is designed to make maximum use of natural light and will cater to users of sustainable travel options, with cyclists' facilities and easy access to the adjacent tram stop.
In this new building:
| | |
| --- | --- |
| Levels 1 & 2 | Hospitality and event spaces, including a 200-seat bistro (The Point) and function centre, open to the public on weekends. The Burwood Corporate Centre will include 10 boardrooms, a lounge and a Council Chamber. Operations will be similar to Deakin's Warrnambool City Centre, with a full catering service available. The Burwood Corporate Centre will be open to Deakin University's corporate partners. |
| Levels 3, 4 & 5 | Spaces for the Faculty of Health, including the School of Psychology, School of Health and Social Development, and the Centre for Population Health. |
| Level 6 | Office for the Deputy Vice-Chancellor (Education) and Chief Financial Officer's staff |
| Level 7 | Vice-President (Advancement) and staff of the Advancement Portfolio |
| Level 8 | Advancement (Donor Relations) staff and the Vice-Chancellor's Office |
A refurbishment program will commence once all occupants have moved in. This refurbishment program will upgrade the vacated buildings to create new teaching and research facilities and to co-locate staff within business areas.