A Deakin University law student has been awarded a prestigious Order of Australia Association Foundation Scholarship - one of only three granted nationally.
Jordan Eitler, a third year Bachelor of Criminology/Bachelor of Laws student at Deakin's Geelong Waterfront Campus, was presented the $40,000 scholarship by His Excellency General the Honourable Sir Peter Cosgrove AK MC (Retd) Governor-General of the Commonwealth of Australia at a black-tie ceremony in Brisbane.
The scholarship provides Jordan with financial assistance for tuition fees, study resources and living expenses as well as a personal mentoring relationship with a mentor who has received an appointment or award in the Order of Australia in the field of Law.
Jordan said he was grateful for the support and enhanced opportunities the scholarship provides.
"To achieve something like this is amazing. It has put me in a fantastic position to reach my goals and shows that hard work and dedication does eventually pay off," he said.
"It means I can remain focused on my study and ensures I have a fabulous network of people around me who believe I can make a difference. It is very humbling to know that people will help with anything to see me succeed.
"Also having a mentor is an outstanding opportunity to network with law professionals, learn more about working with larger law firms while also gaining highly valuable, quality life experience.
"If anything, I now want to work even harder to take every opportunity that's available to me. The confidence I now have in terms of knowing that I am doing all the right things is fantastic. I'm more focused than ever to accomplish my goals."
Executive Dean of Deakin's Faculty of Business and Law, Professor Mike Ewing, said he was delighted to be in attendance at the award ceremony when Jordan was presented with the scholarship.
"It was a proud moment to see Jordan receive the scholarship. It is well deserved acknowledgment of his academic achievements and initiative.He is a truly inspirational young man and I was delighted to also meet his parents," Professor Ewing said.
"At Deakin we are committed to equipping our students with the skills, knowledge and experiences to ensure they are job ready and make a valuable contribution as the next generation of lawyers. Jordan is a great example of what our students can achieve."
Jordan moved from Wodonga to study at Deakin. He said he chose to study law because it was a career in which he felt he could make a difference.
"My interests in law revolve around personal injury claims and the satisfaction gained from helping a client through a very difficult time appeals to me the most," Jordan said.
"Law is also the type of field where no day is the same … I really enjoy talking with people and understanding them. The sense of accomplishment, by way of helping people, appeals to me in that I can offer closure and a sense of justice."
After completing his degree, Jordan said he would like to undertake an honours degree in law and continue expanding his practical skills.
"As for career progression, I hope to gain as much legal experience as I possibly can in the coming years. With the help of my mentor, who has fantastic connections, I should be in a great position to accomplish this," Jordan said.
The Order of Australia Association Foundation is supporting the next generation of leaders by helping promising young Australians to achieve their potential. Each year the Foundation sponsors Scholarships to young Australian students in their early years of tertiary study.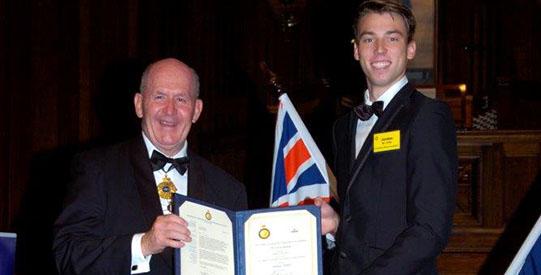 More like this
Media release
Deakin Law School
---
Related News
Fracking ban a social and environmental win, but gas prices may rise
31 August 2016
The Victorian Government's decision to ban the exploration and development of all onshore unconventional gas in Victoria, including the controversial process of hydraulic fracturing ('fracking'), is a social and environmental win for the state but may see gas prices rise, says Deakin University's Professor Samantha Hepburn.