Why Give to Deakin
From funding essential scholarships, to supporting our outstanding faculties and research capabilities − your donation gives a new generation of students the opportunity to receive an unparalleled education.
A donation or gift to Deakin is about paying it forward.
You can take an active role in contributing to a university that really can make a difference – a difference to an individual student who is the first in his or her family to undertake higher education.
A difference to entire communities who will benefit from a potential medical breakthrough and a difference to the world, who will get to experience the brilliance of a future artist, innovator or creator who was inspired at Deakin.
No donation is too small to make a difference
Donations of all sizes are powerful investments in Deakin's mission. Your philanthropy helps educate deserving students and strengthen research that leads to discoveries and solves universal problems.
What matters most to you?
Join us by investing in Deakin University and be part of something exceptional - something that will have an impact on generations to come.
Our key priorities
Public support plays a major role in Deakin's ongoing growth and accessibility with the following key priorities:
Deakin is building a global footprint of accessible education, world class research and innovation. Our aim is to inspire and educate the next generation of global citizens and meet the challenges of our changing world.
We seek partners to join us in transforming our ambition into action across four key themes in which we believe we can make the greatest impact:
These four important and interconnecting themes are the guiding principles of every project we undertake. We are breaking down the barriers that constrain older institutions and taking a truly multidisciplinary approach to teaching and research. This multidisciplinary approach is not only at work within the University but also through the development of strategic research and research training partnerships with internationally recognised government and non-government organisations.
Scholarships can significantly decrease recipients' university costs, including fees, books, travel and accommodation. They allow students to focus on their learning, as opposed to dividing their time between study and work. Students gain self-confidence, self-esteem and the knowledge that Deakin believes in them and their talents. The prestige of being a scholarship winner also adds to students' employability.
See how student support and scholarships can impact students below.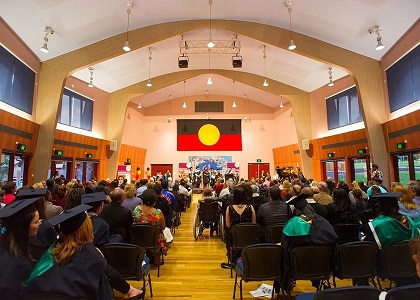 The Institute of Koorie Education (IKE) provides community-based learning designed to enable Aboriginal and Torres Strait Islander students to study without being removed from their communities for long periods of time. This approach to course delivery promotes access and equity for Aboriginal and Torres Strait Islander students.
Where do IKE donations go?
Public contributions ensure the provision of scholarships and delivery of a range of services to support students. These include tutorial assistance, ensuring the availability of appropriate lecture/tutorial rooms, technology support, travel and accommodation, providing an induction service and generally responding to students' specific needs.
Deakin research and innovation informs learning and teaching, strengthening the evidence base of learning and stimulating discussion, debate and the dissemination of ideas.
Together our research leaders, our dynamic environment and our unique partnerships have contributed to many advances in health, manufacturing and technology, society and culture, and sustainability.
Just a few examples of our impact include:
Deakin's ground-breaking research in autism which has led to the adoption of improved diagnostic and treatment guidelines by the international medical community.
The production of high-value short nanofibre materials that will be manufactured with commercial partners for domestic and export markets. The potential of these tiny fibres is only just being explored, but already, discoveries in stem cell expansion are set to improve leukaemia treatment across the globe.
The creation of the life saving OzBot robot by world class specialists at Deakin's Centre for Intelligent Systems Research (CISR) created the life saving OzBot robot. The OzBot differs from current robots in that the user is immersed in the remote environment using haptics (force feedback) and stereovision. By using haptics, the operator is given a greater sense of connection to the task being undertaken, increasing safety and accuracy. This life saving technology is now being used a growing number of law enforcement agencies around the world to protect operators in many hazardous environments.
Deakin is one of few universities in Australia to have developed a research focus on manufacturing. Carbon Revolution is a company that has developed at Deakin University in concert with Deakin's research on carbon fibre technologies. For the past five years, the company has been both mentored and hosted by Deakin University from a small scale developmental production facility; this company is now entering into international contracts to supply carbon fibre wheels to the world's leading car makers. Carbon Revolution represents a real, established pathway for manufacturing employment in Geelong.
To help support Deakin research, click here.
Deakin University Art Gallery, established in 2003, is located on the Melbourne Burwood Campus. The Gallery aims to foster an appreciation of, and engagement with, the visual arts in the University, community and the general public through a vibrant exhibition program.
The Deakin University Art Collection and Galleries unit aims to assist in facilitating the University's teaching and learning program, enrich the student experience and make a difference to the communities we serve through the provision of a high quality art collection and a vibrant and engaging exhibition program.
To learn more about Deakin's Art Gallery, click here.
To help support Deakin's Art Gallery, click here.
How your donations make a difference
Click the images below to read about how the generosity of donations has helped change these students' life.
Contact us
For more information about our philanthropic programs, please contact us.
+61 (0)3 9244 5150
giving@deakin.edu.au
Page custodian: Vice-President (Advancement) Last updated: