School of Information Technology alumni
Do you want to continue to experience the benefits of the university network and professional development opportunities long after graduation?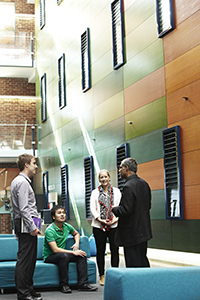 The Deakin University Alumni Network provides current and former undergraduate students, postgraduate students and staff with opportunities to stay in touch with friends, create new professional networks, take part in social and career development events and remain connected to their alma mater.
As a member, you will be invited to take part in University-wide and chapter-specific events such as reunions, social events and professional seminars.
All students and staff are welcome to register to become an alumni member. Registration is free. Note: From 2014, all new graduates are automatically considered to be an alumnus.
There are a range of services that alumni can access and well as benefits to many external providers of various services. For further information visit the central alumni services and benefits area.
If you have any news or information that you would like to share with us and your fellow Information Technology alumni, please contact us. We would also appreciate any suggestions on events that you would be interested in attending. Please email sebe@deakin.edu.au.
Page custodian: Faculty of Science, Engineering & Built Environment Last updated: