Deakin designers bring Mandela Project poster exhibition to Melbourne
3 April 2014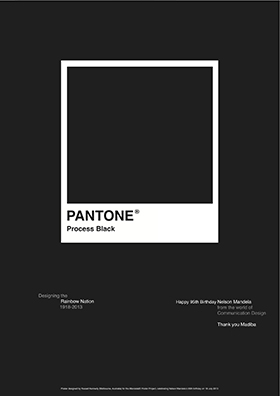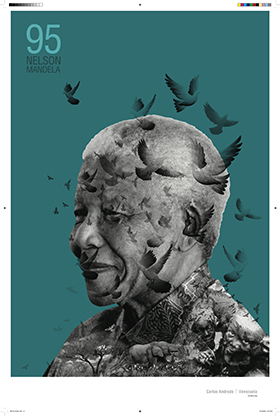 Melburnians will get a chance to see 95 posters created as part of the Mandela Poster Project thanks to the efforts of one of its exhibitors and Deakin University lecturer in visual communication, Russell Kennedy and Dr Meghan Kelly
Mr Kennedy said Melbourne was the first city in the world to host the exhibition since it was first shown in Pretoria last year.
"The exhibition was first created before his passing in May 2013 when a group of South African designers wanted to celebrate Nelson Mandela's 95th birthday," he explained.
"They achieved this by calling for poster submissions from around the world, each acknowledging Mandela's contribution to humanity.
"They received 700 submissions, from around 70 countries, of which 95 were selected."
Mr Kennedy said the posters would be on display on 30 LED screens facing St Kilda Road in the Design Garden at the Arts Centre from Thursday 3 April 3 to Saturday 5 April (10pm) as part of the agIDEAS exhibition.
Deakin University's Vice-Chancellor, Professor Jane den Hollander said she was particularly pleased that Deakin is associated with the Nelson Mandela Poster tribute.
"As a South African who watched in wonder at his leadership, wisdom and kindness in managing a country to a better place and to democracy, I know firsthand that Mandela's legacy influenced generations of South Africans," she said.
"As an educationist, I know that when Mandela said "Education is the most powerful weapon which you can use to change the world" it was a message that reverberated powerfully across the globe."
Mr Kennedy's poster, features an image of Pantone Process Black a core colour used by designers and is ironically called Designing the Rainbow Nation.
"I think the exhibition has been very important in commemorating Mandela's life," Mr Kennedy said.
The exhibition is sponsored by Deakin University and endorsed by Icograda, the International Council for Communication Design.
Mr Kennedy said his own contribution was a thank you to Nelson Mandela from the communication and design profession for how he was able to form a new South Africa.
"From a design point of view the interesting thing was how the whole country was rebranded with a new national identity, new flags, new heraldry and new signs, but in a positive and authentic way which recognised the history of its people."
Mr Kennedy said the rebranding of South Africa demonstrated how designers could lead on an issue.
"Design is about problem solving and leading rather than following," he said.
"I think designers have a bigger responsibility and they can create change themselves."
Mr Kennedy said it was impossible to separate the flag, as Australia had seen, from national identity.
"Our national identity is how we project ourselves and how we want others to see us," he said.
"In Australia we have a colonial flag which recognises the history of some 200 years," he said.
"Yet we should be bragging about the fact that we have the oldest living culture in the world."
See all the posters here: The Mandela Poster Project
Media contact
Sandra Kingston
Media and Corporate Communications
03 9246 8221, 0422 005 485
Email Sandra

You might also like:
---
---
---
---
---
Page custodian: Vice-President (Advancement) Last updated: