Do you want an online degree that will future-proof your career?
At some universities, your online experience is an afterthought. But not at Deakin. Digital is in our DNA, with 40 years of distance and online learning excellence. Choose one of our industry-designed online courses, and secure your place in the future of work alongside our dynamic community of 60,000+ learners online.
Distance education has never felt so connected
One of the benefits of joining a huge online community is the incredible support you get every step of the way. And it's not just limited to your studies. Everything you need to be your best, inside and outside Cloud Campus, is available at your fingertips. We're set up for online chat, Facebook messaging, Skype, phone, email and more, ensuring you can get the support you need, fast, and to help you connect with students and staff.
Study support
Connect with Deakin's best teachers, study mentors, student success coaches and tutors whenever you need to, so you never lose momentum on the way to achieving your study goals.
Australia's highest rated tech support
Learn via our premium interactive platform backed by the top-ranked tech support in Australia.~ Our dedicated IT support staff are available outside regular hours, plus you can access our online library 24/7.
Personal support
A wide range of personal support services are available to all Deakin students, including mental and physical health services, financial support, disability support and legal advice.
What's it like to study online at Deakin?
Discover how Deakin's premium online systems allow you to have a world-class education and achieve your career goals on your terms.
How will I access course content?
Find out how you'll access your high quality course content when you study online with Deakin. DeakinSync, your personal online learning portal, and your unit sites contain audio-visual class materials, lectures, discussion boards and more.
Graduate with a degree you're proud of
Online students graduate with the exact same degree as on-campus students. When you graduate, you'll be joining a community of more than 78,000 high-achieving online students who have successfully graduated from Deakin.
How to apply for an online course
Online and on-campus applications follow the same simple steps. To get started, visit our how to apply hub for everything you need to know about applying for undergraduate and postgraduate degrees. If you'd like some personal guidance through your application, book an Application Assist appointment with a Deakin expert.
Latest articles
How to spend your time during isolation
With so much uncertainty in the air, how can you get ready to make a contribution to a post-pandemic world?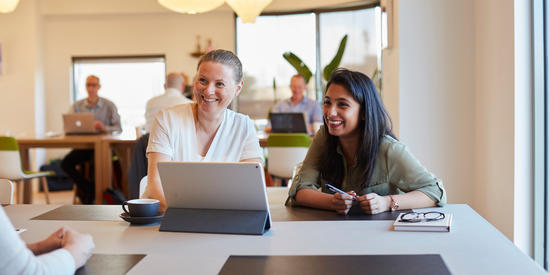 Deakin's Cloud Campus: your online study questions answered
To help you understand whether the Cloud Campus is right for you, we've answered five of the most common questions we hear from prospective students.
Footnotes
*2019 Student Experience Survey, based on undergraduate students
~According to the Voice Project IT Service Quality Support Benchmark Survey