Match your skills and interests to your ultimate course
Studying at university is about discovering your purpose by matching your skills and interests to a course that will lead to your future career.
Explore our courses
Use our course finder to explore Deakin's 200+ industry-shaped courses, and filter by ATAR, campuses and interest areas to start shortlisting your favourite options. Not sure about your ATAR? Estimate it using our ATAR calculator.
Get a preview of uni life
High-achieving student? Join the Deakin Accelerate program and fast-track your studies by completing two first-year uni units while you're in Year 12. You'll enjoy new learning styles and a dynamic environment, and transition seamlessly into uni.
Get the support you need
It's only natural to have lots of questions as you prepare for uni. If you're looking for advice and information that's tailored to current Year 12 students, including helpful tips, visit our support hub for Year 12 students.
Found your Deakin course? Here's how to plan for preferencing in Year 12
Course preferencing takes place when you're in Year 12, so it's good to understand how to do it. Remember that the subject choices you make in Year 10, 11 and 12 should match your interests. It's never too early to check out uni courses and pick subjects that will help you meet the entry requirements. Here are a few tips to get you started.
Look at the courses you're interested in as early as Year 10 and Year 11, so you get a sense of the ATAR you need (ATARs may shift up or down a little every year, but it provides a good indication).
Check the course entry requirements. Then make sure you choose the appropriate Year 10, 11 and 12 subjects. For example, in Year 11 if you're interested in cyber security, pick a technology subject.
Course applications are made through the Victorian Tertiary Admissions Centre (VTAC), rather than directly to each institution. First step is to create an account.
Order your preference by courses you want to get into, rather than courses you think you'll get into.
You can apply for up to eight courses in order of preference. VTAC will offer you a place in the highest preference you're eligible for, based on your ATAR and rank.
Need some inspiration? Read our career stories
Need help navigating the transition from student to graduate to employee? We can help you power your career by finding the job or industry that suits you best. Browse our career stories for motivation and inspiration.
#1 university for student satisfaction
We have facilities and services available so that students feel happy, safe and supported as they build friendships, make connections and start their university adventure.*
What it's like to be a uni student
Your first day at Deakin will be the start of some of the best years of your life. Look forward to making new friends on our vibrant campuses and learning in world-class facilities. There are heaps of clubs and societies for every taste, and a massive range of support (including health and wellbeing services) to ensure you're feeling your best on and off campus. You might even like to live on campus to immerse yourself in the full Deakin experience.
Study how you want
Get the flexibility to study your way. For most courses you can set your own pace and switch between part-time and full-time study. Plus, you can study entirely on-campus or online, or try out blended learning via a combination of on-campus and online subjects if it fits better with your timetable.
Explore our campuses
Deakin has four campuses in Melbourne, Geelong and Warrnambool, which feature amazing facilities and a social, vibrant and diverse atmosphere that welcomes all students.
Melbourne Burwood Campus An innovative, future-focused campus with a distinct community feel.
Geelong Waurn Ponds Campus Home base for many of Deakin's world-leading research institutes.
Geelong Waterfront Campus Study at a stunning seaside campus known for its classic architecture.
Warrnambool Campus Enjoy first-class facilities with the Great Ocean Road just a skip away.
Are you a career practitioner?
Do you support high school students? Keep up to date with events, download publications and resources, and book your virtual school presentation, campus tours and faculty-based activities.
Information for parents and caregivers
Learn more about supporting your child through their final years of school. We can help with how to choose a university, pathways to university, the application process and what life is like as a uni student. Help them make an informed choice about their future.
Latest articles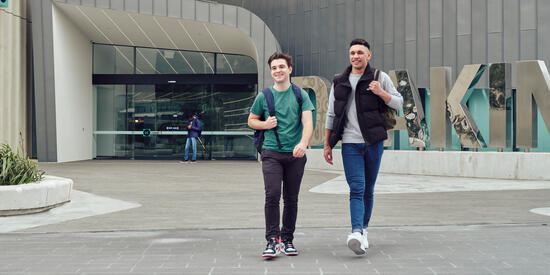 How to get into uni with a low ATAR score
The traditional path from Year 12 to university isn't the only way to start studying at Deakin.
Tips for choosing your uni preferences
Selecting your uni course preferences doesn't have to be daunting. Here are some useful tips to help you create your perfect preference list.
Got a question but can't find the answer?
Here are some of the most commonly asked questions our awesome future student advisers get about applying to Deakin.
Footnotes
*Australian Graduate Survey 2010–2015, Graduate Outcomes Survey 2016–2022, Quality Indicators for Learning and Teaching (QILT)
We're here to support you every step of the way
We're ready to help you make an informed choice. Our friendly advisers are available to speak to you one-on-one about your study options, support services and how we can help you further your career.