Study onshore and online with us
Deakin is a highly ranked, internationally recognised university that aims for excellence in all its activities.
In deciding to study at Deakin, you'll be provided with an outstanding academic program and an exceptional student experience.
As our borders open, we are excited to welcome International Exchange and Student Abroad Students back onshore at our Deakin campuses. We will continue to offer the ONLINE Exchange and Study Abroad program, due to its success and suitability for some students.
If you are thinking of applying to Deakin or have already lodged your application, we look forward working with you preparing you for your studies at Deakin. Email us for more information.
What are you applying for?
This is your chance to explore a new culture, gain a global perspective, make friends from all over the globe and discover the world from down under. Take advantage of this highly rewarding experience while you build international links and diversify your portfolio.
Choose your study type to find out how to apply for your program.
Exchange

We are partnered with hundreds of universities globally – find out if your university is a Deakin exchange partner.
Study abroad

Not a partner? Not a problem. We have different study abroad options to keep your education journey on track.
Specialised programs

Discover other programs available to you.
Explore the Inbound Study Abroad guide
Find everything you need to know about studying at Deakin as an exchange or study abroad student. Learn about your study destination, the many areas of study to choose from and how to start the application process.
Why come to Deakin?
As one of Australia's leading tertiary education providers, Deakin offers a personalised experience enhanced by world-class programs and innovative digital engagement. We lead by creating opportunities to live and work in a connected, evolving world.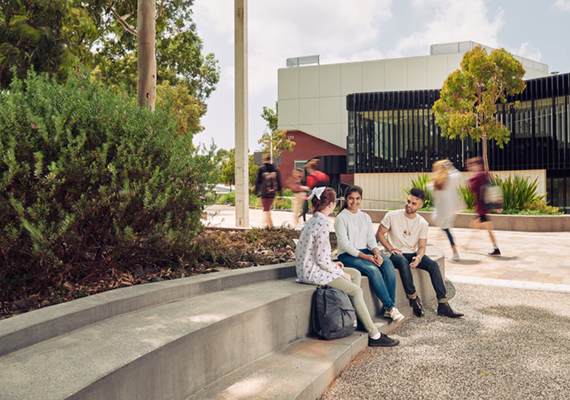 Discover our inspiring campuses
Check out our campuses and get a feel for why we are the #1 university for course satisfaction in Victoria.*
Life at Deakin
Digital Deakin
At Deakin, we are digital innovators. We use cutting-edge technology to provide personal and flexible learning experiences for our students. This includes helping you manage your course requirements, stay in control of your study, improve your skills and find your way across campus, all at the touch of a button.
Accommodation
There are plenty of accommodation options for international students, whether you would like to live on campus or off. We can help you find somewhere
to live, and somewhere to stay when you first arrive.
Deakin University Student Association (DUSA)
The Deakin University Student Association (DUSA) is run for students by students. They are here to help you get the best out of your uni experience with opportunities, activities and services. Join DUSA at an event, in a sports club, on a trip, or in a short course.
Learn more about Deakin University Student Association (DUSA)
I got to participate in unforgettable events. I have met so many cool people, and the friendships I have made along the way and the memories we all share are something I will cherish the rest of my life.
Christian Jensen
Aarhus Business School, Denmark
Benefits of studying with Deakin
Studying abroad will not only give a fresh perspective on your studies but also enable you to become a part of a global community. Here at Deakin, we encourage you to come out of your comfort zone and immerse yourself into a culture that is different to your own – create networks, make lifelong friends from all over the world and discover a new path full of opportunities.
Embrace the life of adventure and being spontaneous as you gain life experience and welcome a new found appreciation of everything. Experiencing a different style of teaching will allow you to think outside the box and gain a competitive edge – not to mention it will look good on your CV and show prospective employers that you have a high level of adaptability.
Global Citizenship Program
The Global Citizenship Program is a free program available to all Deakin students and offers you the opportunity to earn a suite of digital credentials by completing various internationally-focused activities.
Apply now to enhance your cross-cultural capabilities, increase your employability, and expand your global perspectives with the Global Citizenship Program.
Pre-approved study options
Deakin has a great range of pre-approved unit options available. These have no prerequisites, which means you are granted direct entry upon application. Any other units that you select that are not on this list will be sent to their respective faculty along with your academic transcript for approval.
Streamlined trimester packages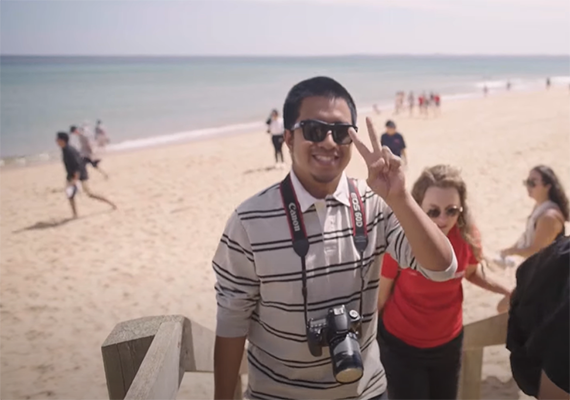 Experience study abroad at Deakin
Students from all over the world share their stories and experiences of studying abroad and going on exchange at Deakin University in Australia. Making new friends, experiencing the culture and seeing the beautiful sights of Australia was the highlight for everyone.
Important dates
Trimester 3, 2023
Application deadline: 30 August 2023
Orientation: 30 October – 3 November 2023
Deakin Abroad Welcome Session: 1 November 2023
Classes commence: 6 November 2023
Intra-trimester break: 25 December 2023 – 7 January 2024
Teaching period ends: 4 February 2024
Study period: 5 – 7 February 2024
Examinations: 8 – 16 February 2024
Release of results: 1 March 2024
Trimester 1, 2024
Application deadline: 30 October 2023
Deakin Abroad Welcome Session: 22 February 2024
Welcome Event: 23 – 24 February 2024
Orientation: 23 February – 1 March 2023
Classes commence: 4 March 2023
Easter vacation/Intra-trimester break: 29 March – 7 April 2024
Teaching period ends: 24 May 2024
Study period: 27 – 31 May 2024
Examinations: 3 – 14 June 2024
Release of results: 4 July 2024
Trimester 2, 2024
Application deadline: 30 April 2024
Orientation: 1 – 5 July 2024
Deakin Abroad Welcome Session: TBC
Classes commence: 8 July 2024
Intra-trimester break: 12 – 18 August 2024
Teaching period ends: 27 September 2024
Study period: 30 September – 4 October 2024
Examinations: 7 – 18 October 2024
Release of results: 1 November 2024
Trimester 3, 2024
Application deadline: 30 August 2024
Orientation: 28 October – 1 November 2024
Deakin Abroad Welcome Session: TBC
Classes commence: 4 November 2024
Intra-trimester break: 23 December 2024 – 5 January 2025
Teaching period ends: 31 January 2025
Study period: 3 – 5 February 2025
Examinations: 6 – 14 February 2025
Release of results: TBC
Contact us
If you would like to get in touch, please feel free to send us an email.
Follow our students' journey on Instagram
If you would like to see what our students get up to on study abroad and exchange programs, check out @destination_deakin on Instagram.
Footnotes
*Australian Graduate Survey 2010–2015, Graduate Outcomes Survey 2016–2022, Quality Indicators for Learning and Teaching (QILT)