Accounting
Complex global markets and reporting requirements mean that never before has accounting been a more dynamic and exciting profession to enter. Accountants are finance and information specialists, and the major decision-makers in a wide range of organisations.
---
Undergraduate accounting
Accounting is a dynamic and exciting profession, especially today in a global business environment. Businesses and individuals rely on accountants to assess their financial situation, prepare reports and give advice on financial dealings. Accountants are often the lynchpin of an organisation as informed business decisions frequently rely on their skills.
Accounting is studied through Deakin's Bachelor of Commerce - an internationally recognised and EPAS acccredited business degree. Deakin is the only Australian university with an EPAS accredited Bachelor of Commerce.
Deakin's Bachelor of Commerce offers valuable work integrated learning opportunities, giving you professional work experience in your area of specialisation and enhancing your career prospects.
Accounting graduates may find careers in public accounting practices, corporations small and large, the tax department, audit firms, government organisations and not-for-profit organisations.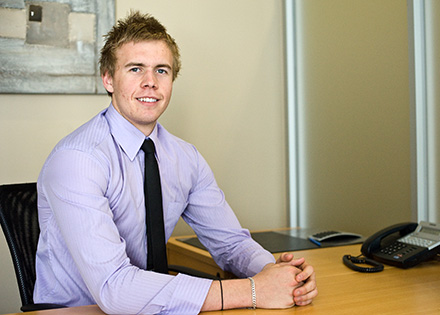 Nick Howard
Bachelor of Commerce 2012
Read Nick's story.
---
Ryan D'souza
Master of Professional Accounting 2012
Read Ryan's story.
Postgraduate accounting
The role of an accountant has undergone a fundamental shift towards a wide-ranging advisory role. Career opportunities are now available in other vocations including working as financial planners, investment advisers, market analysts, tax consultants, advisers in mergers and acquisitions, in corporate recovery and insolvency, treasury banking, e-commerce or information technology.
Deakin offers pathways to professional accounting qualifications for graduates of any discipline. Our accounting courses cater for students who require a full professional accounting qualification, or those who seek knowledge in accounting and related fields to complement their overall management knowledge and expertise. Additionally Deakin offers specialisations in accounting in the MBA and Master of Commerce.
Graduating with a Master of Professional Accounting or accounting specialisation from Deakin will open the door to many employment opportunities and a huge variety of business careers.
---
Professional accounting accreditation
Selecting the correct combination of units in one of our professionally accredited courses provides an opportunity to be eligible to apply for admission to the:
CA Program of the Chartered Accountants Australia and New Zealand (CAANZ)
Associate Membership for the CPA Progam, CPA Australia
IPA Program of the Institute of Public Accountants (IPA) and
Exemptions may apply for the Association of Chartered Certified Accountants (ACCA).
Students should consult with a Faculty course adviser to identify the units required by each professional body, and also consult with the professional body. Eligibility may depend on work place experience.
Please note: Course lengths may vary in response to requirements under the Australian Qualifications Framework. Applicants should refer to the handbook for the latest information.
---
Why study at Deakin?
Leading Australia with international recognition
Deakin's Bachelor of Commerce is internationally recognised and EPAS accredited by the European Foundation for Management Development (EFMD). EPAS is an international quality benchmark for business programs worldwide. Deakin is the only Australian university with EPAS accreditation for its Bachelor of Commerce.
Study abroad
As part of your study, you can travel to the financial capitals of the world and gain credit towards your degree. Paris, London, Dubai or Frankfurt could be on the itinerary. Visit key financial organisations such as WTO, the United Nations in Geneva, the European Central Bank and the Bank of England . Find out more.
Work Integrated Learning
The Faculty of Business and Law's Work Integrated Learning program gives you the opportunity to enhance your job prospects with real world experience, while gaining credit towards your degree. Work Integrated Learning covers business internships, community-based volunteering, work-based learning, team-based learning and industry-based learning. Find out more.
---
The benefits of student societies
Joining a student society can help you:
to adjust to university life
make new friends
provide career information
help with study advice
Watch our video and listen to our students talk about the benefits of student society membership.
---
More information
Page custodian: Faculty of Business & Law Last updated: