Bachelor of Psychological science
Hume Global Learning Centre (Craigieburn)
Studying Deakin University's Bachelor of Psychological Science gives you entry to one of the fastest growing professions in the world. By studying the scientific discipline of the human mind and behaviour, psychologists are able to assess, prevent and treat a wide range of problems.
---
Benefits
a chance to study close to home
part-time or full-time study options
supported delivery through Deakin at Your Doorstep (DAYD) delivery mode with video conference backed up by face-to-face tutorial support
courses accredited by the Australian Psychology Accreditation Council that also meet the requirements of the Psychology Board
undergraduate program focuses on providing the knowledge and skill-base that make our graduates highly valuable in the employment market
School of Psychology at Deakin offers a range of continuing postgraduate study and career options unparalleled in Australia.
---
Study location options
In 2013 you can study for the Bachelor of Psychological Science through Deakin at Your Doorstep in partnership with Hume City Council and Kangan Institute. For information on the Craigieburn Learning Centre please visit the Hume City Council website.
---
Course overview
The delivery of the Bachelor of Psychological Science at the Hume Global Learning Centre Craigieburn will be a blended model of delivery. Students will be able to access up to four units per trimester by studying two units delivered through interactive video conference technology and face to face tutorials conducted at the Hume Global Learning Centre and two units through Deakin's cloud (online) mode.
For further information you can download the course brochure (PDF, 118 MB).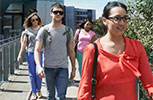 Bachelor of Applied Science (Psychology) brochure
PDF
222 MB
---
How to apply
Fill in the Bachelor of Psychological Science application form (PDF, 131.7 KB) and post to:
Deakin Learning Hub
Level 3, 237 Lonsdale Street
Dandenong VIC 3175
Deakin will contact you regarding attending an information session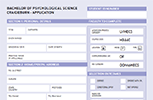 Bachelor of Psychological Science application form
PDF
151 KB
---
Page custodian: Marketing Division Last updated: