Helping your child make the right choice
Reputation
Deakin University is ranked in the Top 1% of universities worldwide*, with state-of-the-art facilities and world-class research.
*ShanghaiRankings World University Rankings
Learn more about our reputation
Your child's career path
We prioritise authentic, real-world workplace experience, along with our industry-guided curriculum and industry-based teachers. This means that you can be confident your child will graduate career-ready and with an advantage over the competition.
Learn how your child can get a head start in their career with Deakin
Your child's real-world learning
Deakin's focus on skills development is evidenced in the practical focus of our programs. This takes students beyond the classroom and into the workplace while they study. This gives your child the chance to put their knowledge and skills into practice straight away, as well as make valuable network connections.
Student satisfaction
Deakin University is has been the leader in graduate satisfaction for ten years in a row**. From teacher quality to campus experience to future employability, our focus is on a positive, rewarding experience for your child.
**Australian Graduate Survey (2010-15) and the Graduate Outcomes Survey, QILT (2016-19)
Industry connections
Our extensive range of strong industry connections don't just offer our students the chance to experience the workplace before they graduate – our industry partners guide actual course curriculum.
Learn more about our partnerships
DeakinTALENT
DeakinTALENT is our unique and industry-leading careers and employment service, connecting students and graduates directly with employers. Your child will be equipped with the planning and marketability tools and skills to excel in the job market.
Our campuses
Deakin's four campuses are located in the south-east of Australia, and offer a range of environments to live and study. Whether your child is after the excitement of city living or a picturesque location alongside beaches and wildlife, there's a Deakin campus for them. We also have Deakin Cloud, our innovative online learning platform.
Interested in visiting one of our campuses? Contact us today to organise a tour.
Melbourne Burwood Campus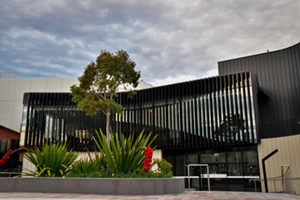 Deakin's Melbourne Burwood Campus is our largest campus, and is just a short trip from Melbourne's central business district.
Warrnambool Campus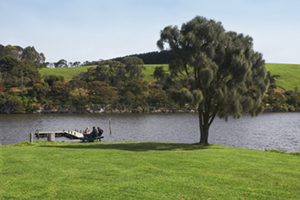 Deakin's Warrnambool Campus offers a friendly, close-knit community in a picturesque beach-side town, surrounded by nature.
Geelong Waurn Ponds Campus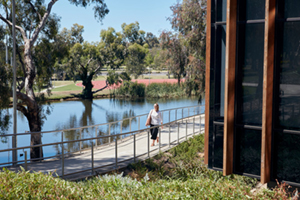 Deakin's Geelong Waurn Ponds Campus has a well-earned reputation for its expansive grounds and state-of-the-art learning and sport facilities in a beautiful rural environment.
Geelong Waterfront Campus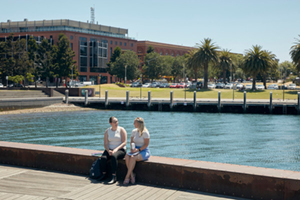 Deakin's Geelong Waterfront Campus, in its stunning seaside location, gives students the chance to study in a renovated 19th century wool store building in the heart of Geelong.
Safety, health and support
Airport pickup
We offer a free airport pickup service for your child's first arrival at Melbourne International Airport or Avalon International Airport.
Complete an airport pick-up application form
Your child's safety
Deakin is a safe and friendly environment for international students. Regardless, we have 24-hour security across all of our campuses.
SafeZone is a free app for all Deakin students and staff, which connects your child directly to the Security team. It's there for emergencies, but also for the times they just need some help.
Health and wellbeing
Your child will have easy access to fitness centres, healthy food and all sorts of student support.
Deakin Medical Centre provides professional medical and nursing healthcare and advice to students. Campus doctors bill directly through Overseas Student Health Cover (OSHC).
DUSA
Deakin University Student Association (DUSA) is an inclusive community that offers support services and advocacy for all students.
Support services for your child
Deakin has experienced International Student Support Officers (ISSO) to assist your child with any cultural or social adjustments that come with moving to another country.
Learn more about how we support international students
Accommodation
There are plenty of accommodation options available for international students, both on and off campus.
We can assist in finding the right option for your child.
Life at Deakin
As well as offering a range of academic support services, Deakin has a strong focus on ensuring students feel supported, included and comfortable in every aspect of life. From mentor programs, to clubs and societies, to on-campus gyms and medical centres, we make sure your child has all the tools they need to live a healthy, happy and engaged life during their time at Deakin.
Deakin University has by far been the best academic decision I have ever made. Not only was I able to learn in a welcoming and supportive environment, my courses also provided me with incredible practical opportunities.
Angela Sterjova
Bachelor of International Studies and Master of Arts (International Relations)
Getting into Deakin
There's some important steps to follow on your child's journey to studying at Deakin. We can help you and your child along the way to make sure it's a smooth process.
Is your child under 18 years of age?
Pathways
There's more than one way for your child to get into Deakin. We offer a range of different pathways for your child to commence their studies with us.
Deakin College is a direct pathway to Deakin University for students who might not meet the academic admission requirements for their desired degree. A Deakin College diploma can fast-track your child's journey into Deakin University, with academic and study skills support available along the way.
Learn more about Deakin College
Deakin University English Language Institute (DUELI) offers a range of programs to help your child meet the English language requirements for their Deakin University degree, as well as equip them with vital skills for the workplace.
Contact us
You can contact Deakin in Australia using the details below. Alternatively, we have a number of offices around the world and a network of international representatives ready to assist you and your child.
Call us
International student enquiries
Visit us
Deakin International
221 Burwood Highway
Burwood Victoria 3125
Australia