Deakin partners with Victorian Parliament for youth engagement program
Media release
14 September 2017
A cohort of Deakin University students has been tasked by Victorian Parliament with researching and developing a way to enhance the 160-year-old political institution's connection with young Victorians.
The five-person team of Deakin University students will work on a blueprint for parliament's future engagement with youth through digital channels such as social media.
The cross-disciplinary group - Ana Erkalovic (International Studies), Matt Kloszynski (Communication and Media), Abhilash Margasahayam (Business Administration), Ari Moore (Arts) and Sid Sharma (Accounting and International Finance) - is undertaking this project within Deakin's FreelancingHUB.
The project brief was developed following a series of workshops the Victorian Parliament conducted last year with young Victorians, in association with the Foundation for Young Australians.
The project will be made official today, when parliamentary leaders from both houses sign a partnership agreement with Deakin's Pro Vice-Chancellor of Graduate Employment, Professor Dineli Mather.
The FreelancingHUB is an initiative of the Deakin Graduate Employment Division's DeakinTALENT suite of programs and is designed to expand work integrated learning opportunities on campus, and let students share their skills to solve real problems in partnership with students from other disciplines, while being remote workers in the Gig economy.
FreelancingHUB Operations Manager Emma Simpfendorfer said the program was dedicated to enhancing student skills in their preparation for the jobs of the future.
"FreelancingHUB students work on real business and community projects offered by real clients, without the need for students to be physically located at the client's site," Ms Simpfendorfer said.
"Hub projects usually span a Trimester and allow students from varying disciplines to develop skills in teamwork, self-management, professionalism and project delivery.
"It can be an amazing wake-up call for students to work with a client and gain that exposure to a professional working environment - learning how to act, how to ask the right questions and how to ensure the client is satisfied with the results."
Deakin Pro Vice-Chancellor of Graduate Employment Professor Mather praised the FreelancingHUB initiative and said she was a strong advocate of partnerships between universities, organisations and employer groups - particularly as a strategy to develop employable graduates.
"The five students working on the Victorian Parliament Youth Engagement project represent a broad cross-section of disciplines, and each of them will bring their own unique perspective and skills to the project," she said.
Professor Mather said the partnership between Deakin University and the Victorian Parliament would allow the students to influence the ways in which parliament can engage with youth in the spaces and places they frequent in the online world.
Legislative Council President Bruce Atkinson and Legislative Assembly Speaker Colin Brooks will also be signing the agreement.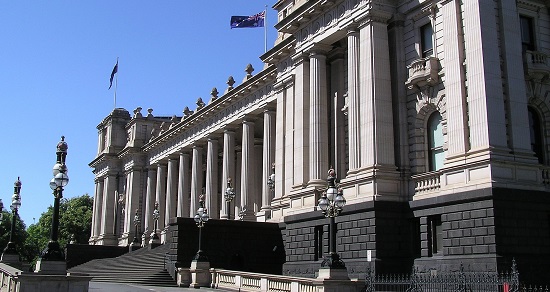 More like this
Media release