Preschool and childcare is an ideal time to help kids get more active
Media release
29 November 2016
A Victorian study of over 700 children has for the first time compared how physically active both boys and girls are when they are at preschool or childcare and found boys are more physically active than girls.
Researchers from the Institute for Physical Activity and Nutrition at Deakin University also found that both boys and girls were significantly less active during care hours than outside care hours on weekdays.
136 preschool and childcare centres were part of the Healthy Active Preschool and Primary Years (HAPPY) study and the results were published recently in the International Journal of Behavioral Nutrition and Physical Activity.
Dr Trina Hinkley, from the Institute for Physical Activity and Nutrition, said most preschools and childcare centres were doing well with supporting children to be physically active, but some children still need some extra support.
"Our research found boys spent 51 per cent of their time being active while they were at the centre and girls spent 48 per cent. This may not seem much of a difference but when considered over the longer term, it is significantly less. For instance, over the 15 hours of a usual preschool program each week, this means that girls are spending about 30 mins less than boys being active.
"Interestingly, the longer girls spent inside, the less active they were at preschool or childcare.
"We also found that most of the children (83 per cent) met the physical activity recommendation of 15 minutes of physical activity per hour during the time they were at the centre on every day of monitoring, although 17 per cent still struggle.
"Children typically spend up to 15 hours a week in preschool and childcare centres can provide long day care of 10 hours or more per day. This means that centres may need to find specific things to entice particularly sedentary children to be active during their time in care," she said.
The study also found that boys were more physically active at centres which had more 'natural' ground coverings, such as grass or bark.
Dr Hinkley said some suggestions that might be useful to encourage children to be more physically active include allowing children more time outside, removing chairs from indoor and outdoor environments so children are encouraged to stand and move around more, and making sure that outdoor environments are not overcrowded with equipment so children have opportunities to move freely around.
"Physical activity has been shown to be associated with healthy weight, bone and skeletal health, motor skill development and heart health, even in young children.
"The pre-school and childcare setting is an ideal opportunity to provide a supportive environment to encourage more physical activity in children," she said.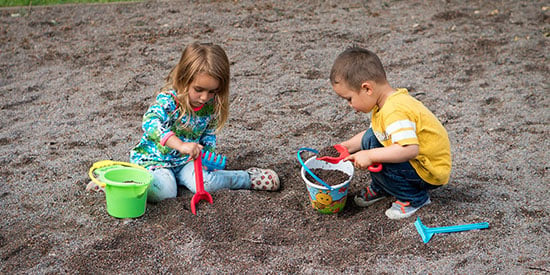 More like this
Media release
Faculty of Health
Institute for Physical Activity and Nutrition (IPAN)
---
Related News
Study shows children eating less salt, but still a long way to go
A new study has found promising signs that Australian children are eating less salt, but researchers say much more needs to be done if Australia is to meet the Federal Government's commitment to reach the World Health Organization's target of a 30 per cent reduction in population salt intake by 2025.