Warrnambool Clinical School welcomes 100th graduate
Deakin news
27 January 2017
Deakin University's School of Medicine Clinical School at Warrnambool has welcomed its 100th junior doctor graduate as its local success continues.
In a slice of good timing, the 100th graduate, Dr Linda Anderson, has been recruited as a new intern by South West Healthcare.
Dr Anderson already lives in the town after moving to Warrnambool in 2010, and is one of five graduates from the Warrnambool Clinical School to start this year as interns at South West Healthcare.
The Warrnambool Clinical School's Director of Clinical Studies, Associate Professor Barry Morphett, said the course had been established to provide interns ready to work in regional settings.
"It's fortuitous that Linda is the 100th graduate and has ultimately ended up working in her home town," Associate Professor Morphett said.
Fellow course graduates and new interns at South West Healthcare, Zoe Baudinette and Rob Reynolds, also enrolled in the course as Warrnambool residents.
A fourth graduate, Dr Todd Storm, has married and settled in Warrnambool since coming to the city for the final two years of his course.
"It's pleasing that local people have the opportunity to gain access to the Deakin course and ultimately end up working in their home town," Dr Morphett said. "We always hoped that our graduates would stay to boost the local workforce and we're very happy with the way the course is progressing."
A fifth Deakin graduate, Cameron Tuck, has also started at South West Healthcare. All third year Warrnambool students successfully completed their course in 2016 and will return this year to complete their studies alongside a new cohort of students.
Dr Reynolds worked as a pharmacist in Warrnambool for four years before entering medicine in 2013.
Dr Baudinette was born and bred in Warrnambool and completed Year 12 at Brauer College and previously completed a double degree in nursing/paramedics.
Dr Anderson, originally from Perth, has lived all around Australia as a former member of the Australian Defence Force and as an ADF spouse. In 2010 she moved to Warrnambool where her husband Marc has worked as an air ambulance pilot and is now the Senior Base Pilot and Base Manager.
After finishing her Army service in 2012, she completed the first two years of the medicine course at Deakin University's Waurn Ponds Campus. Warrnambool was her first preference for both clinical school and internship.
"I bid for the Warrnambool Clinical School (WCS) for many reasons: to reunite with my husband and our home; to enjoy the friendliness of the locals and the lifestyle Warrnambool offers; and to benefit from the dedication and expertise of the school and its staff," she said.
"We are very grateful to the WCS, and the local clinicians and patients who allowed us to learn from them. The WCS team provides a nurturing and constructive environment that challenges but assists its cohorts to reach the required standards and fulfil our potential. I am thrilled and proud to be the lucky 100th graduate and doubly pleased to be serving my internship in Warrnambool."
In the long term Dr Anderson plans to specialise in General Practice and hopes to gain additional qualifications in dermatology or emergency medicine to eventually provide locum services in regional and rural areas that often suffer from doctor shortages.
"In the short term, I look forward to building more professional and personal relationships with members of the local community and striving to become the kind of doctor the WCS works so hard to produce," she said.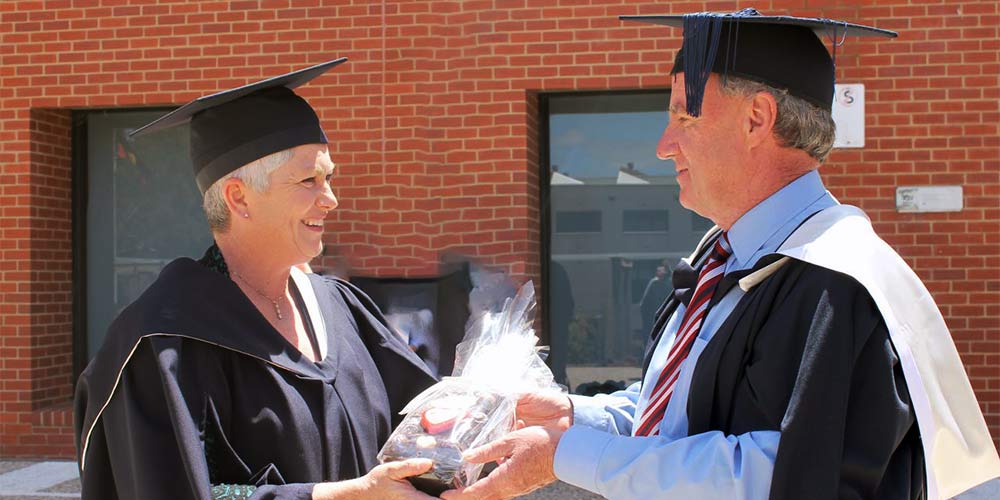 Key Fact
Deakin University's School of Medicine Clinical School at Warrnambool has welcomed its 100th junior doctor graduate as its local success continues.