Marin Burela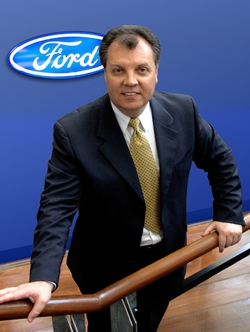 Marin Burela – BE 1985
Deakin Alumni of the Year Award for outstanding service in his profession
In recognition of his outstanding leadership and management in the automotive industry
Marin Burela is currently the President and CEO of Ford Motor Company's China joint venture, Changan Ford Mazda Automobile Co. Ltd.
As former President and CEO of Ford Australia from 2008-2010, Mr Burela was responsible for driving the success of Ford Australia's operations, while continuing the implementation of the company's Global One Ford Plan. In recognition of his valuable contribution to Ford he was elected a Corporate Vice President and Company Officer by the Ford Board of Directors in 2012.
Previously, Mr Burela was Director of Manufacturing for Land Rover in the United Kingdom, which was part of the Premier Automotive Group that included global automotive brands Volvo, Aston Martin, Land Rover and Jaguar. In addition to leading an organisation of over 9,000 employees in Birmingham in the United Kingdom, he was responsible for the company's international assembly operations in Turkey, Brazil, South Africa, Malaysia and Thailand. He was appointed to the Board of Jaguar and Land Rover in 2002.
Upon re-joining Ford of Europe in 2004, Mr Burela led the development of the company's highly successful Global Small Car Product Program in his position as Executive Director, Global Small Cars.
Mr Burela was born in Croatia. He migrated to Geelong Australia with his parents at the age of four. He is married to his wife Stephanie. They have four children. Two of his two daughters are currently undertaking studies at Deakin following in their father's footsteps. In addition to his passion for the Automotive Industry his support and love of the Geelong Football Club is relentless.
Page custodian: Vice-President (Advancement) Last updated: