Design the infrastructure of the modern world
Our engineering courses are hands-on, industry-led and let you play with some of the most exciting technology in Australia. At the heart of our engineering courses is project-based learning. Whether you're building robots in our state-of-the-art lab spaces, or solving complex problems on industry placement, the skills you'll be learning will prepare you for your dream career.
Build your career from the ground up
Our engineering degree courses focus on the employability of our graduates and the future needs of industry. Our graduates are well-rounded engineers with significant exposure to professional engineering practices, well-equipped to meet the challenges of the future, including those caused by climate change and sustainability issues.
Project-oriented design-based learning (PODBL)
PODBL is a fundamental key feature of our engineering degrees. From the very first class, and throughout your degree, you'll actively develop ideas and design products through our experiential learning platform.
A hands-on approach
You'll spend 50% of every trimester learning via team-based projects. You'll take real industry problems and design, research, test and evaluate solutions with the support of an academic. Work-integrated learning enables you to undertake a full or part-time industry placement as part of your studies.
Highly sought-after graduates
Roles in engineering are expected to rise by 429,000, or 17.3 per cent, in the next five years*** – placing you in prime position to slot into your dream career.
Postgraduate engineering course information webinar
Join our upcoming engineering webinar and discover how with a postgraduate degree from Deakin, you can progress your career with the knowledge and skills in-demand by industry.
State-of-the-art facilities
Gain access to world-class facilities at our engineering precinct. Deakin has invested in over $8 million worth of teaching equipment and we house some of the most advanced systems and spaces in Australia.
Get the skills industry needs
Our long-standing partnership with Engineers Australia informs our teaching, ensuring our courses are relevant and that students develop the skills that employers want. Deakin graduates are highly sought-after by employers for their forward-thinking, innovative and entrepreneurial qualities.
I completed an industry-based final-year project at Arup and was offered a graduate position at Jacobs. I enjoy the challenge of solving complex problems and dealing with clients.
Demetrius Zaadstra
Civil engineering graduate, employed at Jacobs Engineering Group
Learn more about Demetrius' experiences
'I have always known that I wanted to be a civil engineer because from a young age I was surrounded by construction. What attracted me to Deakin was the relaxed, friendly, country feel of the Geelong Waurn Ponds Campus, as well as the flexibility that allows students to study during Trimester 3 and online through Cloud learning.
I started my degree studying online and part time as I was working full time at a local engineering firm. The flexibility to study and work was critical to my degree and I have continued working and studying throughout it. The opportunities Deakin offers through site visits and overseas experiences should be embraced, as they are invaluable, and the atmosphere at Deakin is amazing.
The Deakin teaching staff, lecturers and lab instructors love helping students learn. If you ask them questions and show an interest, they'll be more than happy to help as they are very passionate about the subjects they teach.'
Study engineering online
You can study a number of our engineering courses online via the Cloud Campus. You'll most likely need to participate in one or more Engineering Intensive Activities in each trimester of your enrolled study in order to demonstrate your skills competency in person.
We're here to help
If you're dreaming of an exciting and rewarding career in engineering, we'll help get you there.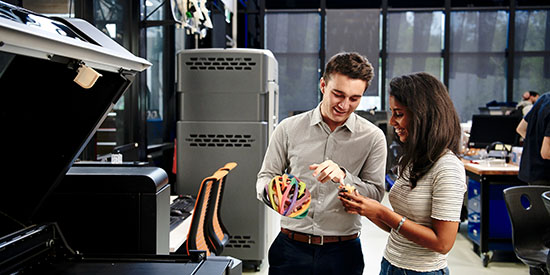 Why real-world experience is the engine behind an engineering career
The best engineering degrees get you ready for the real world, and what better way to do this than through practical work experiences?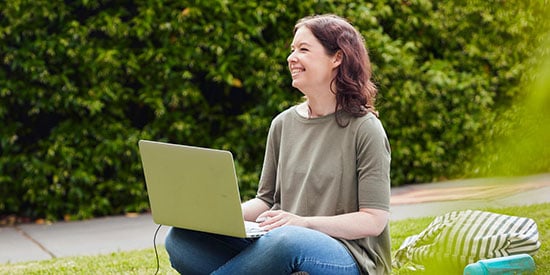 Studying engineering online
Accessing an engineering degree is now even easier than ever, with Deakin University's engineering degrees now offered online.
Student showcase
At Deakin, we're mindful of the knowledge, skills and attributes professional engineers need to meet the changing nature of the engineering workforce in Australia and beyond. We prepare you by harnessing work and learning through industry and research projects, where you have the opportunity to work on industry projects and experience real-world problem solving. One way we do this is through our final-year projects.
Discover engineering at Deakin
Industry partnerships
Discover more about Deakin's invaluable industry partnerships, and how they ensure engineering students graduate job ready.
Study engineering at Deakin
Hear why our students love studying engineering at Deakin with practical, design-based learning opportunities and hands-on industry experience.
Engineering facilities
Explore our future-focused engineering facilities at our Geelong Waurn Ponds Campus, housing some of the most advanced systems, equipment and technologies in Australia.
Footnotes
***Australian Government's Industry Employment Predictions 2015 Report
+Deakin references data from a range of government, higher education and reputable media sources. For more information, visit our list of media references.