Benjamin Graham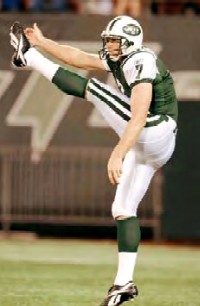 Bachelor of Commerce 2007
Alumni of the Year Award Winner 2012
Ben Graham is an Alumni member and former player with the Geelong Football Club in the AFL. He continued to kick footballs as a punter for the New York Jets and New Orleans Saints and Detroit Lions in the NFL and was the first Australian to play in a Super Bowl in 2009 with the Arizona Cardinals.
Since retiring from the NFL in 2013, he now works at the Western Bulldogs Football Club in the AFL as Strategic Operations Manager.
What degree did you undertake at Deakin?
A Bachelor of Commerce graduating in 2007.
Why did you choose this course?
I decided on a Bachelor of Commerce because the management and marketing aspect would be very beneficial both during and after my football career.
You played 219 games for Geelong and left in 2004. What have you been doing since?
After the 2004 AFL season, I embarked on an NFL career in the USA. I moved to New York in 2005 and after six months learning the fine art of punting and a completely new game, I earned a position with the Jets in the NFL and also New Orleans Saints and Detroit Lions.
Since retiring from the AFL, I now work for the Western Bulldogs in the AFL.
What do you like most about you new career and home?
The NFL gave me an opportunity to extend my professional sporting career. Compared to playing AFL, it was far less taxing on the body so I could play for a long time. Living in New York was a fantastic experience for my family. We enjoyed everything the city had to offer.

What did you miss about living in Australia?
Firstly, our families - but it was a fantastic experience and a great cultural opportunity for our children.

What are your other hobbies/interests?
I love to spend good quality time with my family.

What is your favourite place and time?
West Palm Beach, Florida in July with Katie and the kids and Australia in summer with the family.
What is success to you?
Success is achieving your goals, being comfortable in your own skin, enjoying every moment with your family and friends, and waking up every morning with a positive attitude.
What do you consider your best achievements?
Professionally : playing 219 games for the Geelong Football Club, winning the Best and Fairest (1999), captaining the club for three years and becoming a Life Member.
It was also an honour of being appointed Captain of the New York Jets (NFL) in 2006 and being the first Australian to play in a Super Bowl with the Cardinals.
Personally : my beautiful family. It was difficult to move from Geelong to New York initially, but my wife and children have always supported my career.
What has this degree given you?
It has allowed me to appreciate the commercial, marketing, administrative and management aspects of professional sport. With the knowledge and experience gained over the past 17 years playing football, my Deakin degree will definitely stand me in good stead for future employment.
Page custodian: Vice-President (Advancement) Last updated: