Explore your study options
If you're aiming for an accredited profession like accountancy, finance or marketing, explore our Bachelor of Commerce. If you're interested in a broad set of business skills you can apply in growth areas like entrepreneurship and innovation or sustainability and development, our Bachelor of Business is for you.
Undergraduate
Undergraduate (your first degree)
An undergraduate degree is generally completed between two to four years, depending on the pattern of study and any recognition of prior learning you may have. Associate degrees, bachelor and bachelor with honours are all undergraduate degrees.
Postgraduate
Postgraduate (further study)
A postgraduate qualification can be undertaken by students who have already completed an undergraduate degree or possess significant, demonstrable work experience. Postgraduate courses include graduate certificates, graduate diplomas, masters and PhDs, as well as specialist programs for industry professionals.
Research
Higher Degrees by Research (supervised research)
Research degrees are research based master's or PhD programs that focus on a single area of expertise. They provide students the opportunity to carry out highly specialised research under expert supervision.
Choose a business or commerce degree that will get you work ready
At Deakin there's a clear connection between what you study and what lies ahead in your career. You'll learn through valuable practical experiences, including researching and resolving real business and social issues.
Courses designed for your future
Whether it's professionally focused expertise in the Bachelor of Commerce, or versatile skills for an innovative career in the Bachelor of Business, our industry-connected courses equip you with learning you'll use every day.
Real business experiences
Professional development opportunities start from day one. You'll work with the industry-standard programs and tools, build core business skills and apply them in real settings through work-integrated learning, business development clinics and more.
The opportunities offered in the Bachelor of Business are endless! I most valued studying abroad, engaging with real-life clients and developing lifelong relationships with the people I met throughout my university journey.
Isabelle Banovac
Bachelor of Business
Professional recognition
The Bachelor of Commerce is a pathway to professional practice in a wide range of fields. Depending on your chosen major, you can qualify to pursue accreditation with these leading professional bodies.
Accounting, finance and financial planning
Association of Chartered Certified Accountants (ACCA)
Chartered Accountants Australia and New Zealand
CFA Institute University Affiliation Program
CPA Australia
Financial Advice Association Australia (FAAA)
Institute of Public Accountants (IPA)
Human resources and marketing
Australian Human Resources Institute (AHRI)
Australian Marketing Institute (AMI)
Top professional roles in business and commerce
Roles for business, human resources and marketing professionals are projected to increase by 13% or 106,400 new jobs by 2026, according to Australian Government employment projections.* Get ahead with Deakin – we'll help you build your network within the community and industry.
13,000 new jobs for financial brokers and dealers, and investment advisers
17,900 new jobs for accountants
10,290 new jobs for human resources professionals
9155 new jobs for marketing and advertising professionals.
Graduate with an employment advantage
Deakin Business School holds both AACSB and EQUIS accreditations, meaning we are globally recognised and internationally benchmarked. As one of the top 3 business schools in Victoria, a Deakin business or commerce degree will distinguish you from your peers.
Deakin business faculty staff bring an enthusiasm to their roles which combined with their expert knowledge makes studies engaging and enjoyable.
Matthew Steinbergs
Bachelor of Commerce
World-class teaching experiences
Deakin's industry-shaped courses and practical, real-world approach to learning will prepare you to be adaptable across the jobs of the future.
Experience entrepreneurship
Complete a unique work-integrated learning unit that develops your entrepreneurial skillset and prepares you to innovate business through your own startup.
Create a sustainable future
You'll be ready for sustainable business, as our courses integrate practices from global frameworks like the UN Sustainable Development Goals and Principles of Responsible Management Education.
Develop a global perspective
Connect with the world through study tours, short-term partner programs and international internships. Join a corporate finance study tour to Hanoi or take a short-term program at a business school in Europe, the UK, North or South America.
Be ready for a transformed career
AI and digital transformation are revolutionising all fields of business. Deakin business courses prepare you for the career opportunities that new business technologies will create.
Want to explore more?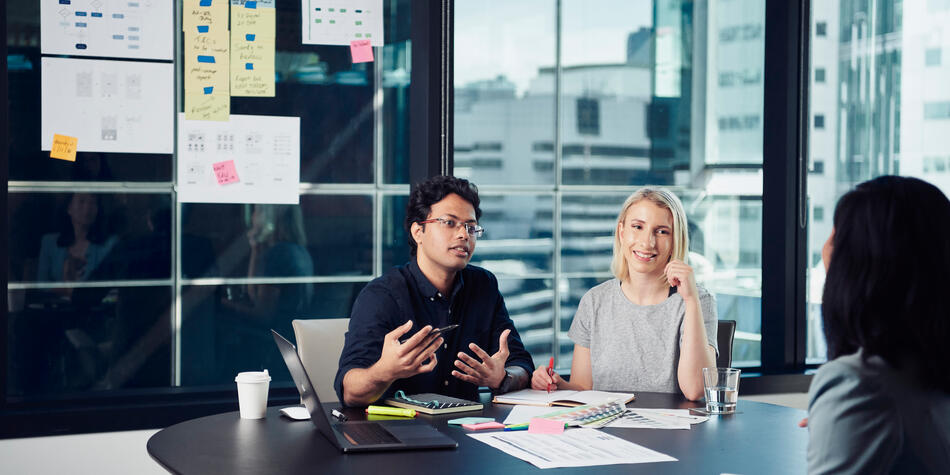 Turning an internship in commerce into an exciting career
Hear from Deakin Bachelor of Commerce graduate Matthew and his manager David about how a commerce internship turned into an ongoing position.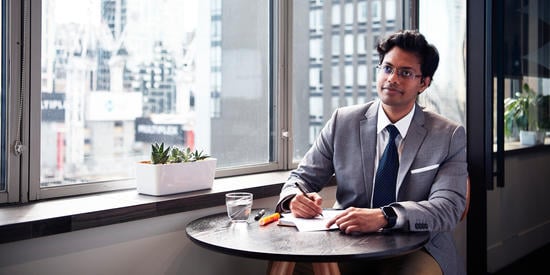 Choosing between business and commerce? Here's what you need to know
What's the difference between a commerce and a business degree, and how can you work out which one is right for you?
Footnotes
*National Skills Commission Employment Projections 2021–26.
Got a question about our business and commerce courses? Our expert advisers are available to speak to you about your study options and how we can help you further your career.
Browse other disciplines within business and economics
Choose an area that you're interested in and learn how Deakin's extensive range of study options and experiences can help turn your dreams into reality.
Browse other disciplines within accounting and finance
Choose an area that you're interested in and learn how Deakin's extensive range of study options and experiences can help turn your dreams into reality.