Get set for a successful career
Our sport courses allow you to specialise in a range of areas from sport management, coaching and development through to applied sport science and clinical exercise physiology. You'll get hands-on learning in world-class sport facilities, and our industry connections – including the Australian Institute of Sport, Tennis Australia and VicHealth – ensure you enjoy valuable networking opportunities while you study, and strong employment outcomes when you graduate. You can also rest assured you're learning at the cutting edge: the School of Exercise and Nutrition Sciences is the #1 ranked sport science school in Australia***.
Courses within Sport
Undergraduate
Postgraduate
Research
Non-award
Your future in sport
Australia's national pastime is sport – so why wouldn't we provide a cutting-edge course that's both elite athlete friendly and has the world number one ranking for graduate salaries?**
Learn in the real world
You'll get hands-on learning with our prestigious sporting institution partners – from AFL and NRL clubs through to the Victorian Institute of Sport and Surf Life Saving Australia.
Build your sport career
Career outcomes in the sporting industry are exciting, diverse and ever increasing. Deakin offers
you the opportunity to gain a world-class qualification in a country that's globally renowned for high achievement in sport.
Explore our industry connections
Get access to professional networks and contacts within the industry. Develop an in-depth knowledge of your particular area of interest – from movement analysis, physical activity and health through to sport performance.
My Deakin studies have definitely been a huge stepping stone into the real world of sport management and business.
Jess Gray
Bachelor of Business (Sport Management) and Operations Coordinator, Suncorp Super Netball
Learn more about Jess' experiences
With its fans, passion, and fast-paced environment, the sport industry is like no other says Deakin sport management graduate.
Jess Gray admits that she probably stretched her parents' patience with the number of sports she wanted to play while growing up.
'I think I drove my mum mad. I wanted to try every sport under the sun. I've always played lots of sport but if I had to pick a favourite it would be netball as that's the one I've played my whole life,' she says.
Today, netball is more than Jess' favourite sport – it's also her career.
As Operations Coordinator with Suncorp Super Netball (SSN), her job is to help manage netball competitions across eight domestic teams in Australia.
It's a role that grew out of her first full-time job, with Netball Australia, that she secured after completing Deakin's Bachelor of Business (Sport Management) in 2017.
'I found the job through DeakinTALENT (Deakin's Graduate Employment Division) and after going through a lengthy application and interview process was offered the role of Events Coordinator.
'It was pretty exciting to get my full-time role in the sports industry straight out of uni,' she reflects.
While a recent restructure within Netball Australia created SSN, Jess says her current role is very similar.
'I'm still organising events and competitions but it's now under the SSN banner. The states and clubs are all self-managed but SSN oversees national operations and provides official administrative support across areas such as statistics, assessments and attendance,' she explains.
During the off season, Jess assists in organising the SSN fixture for the upcoming season, updates all the necessary documentation – including various league manuals – and also commences planning for the pre-season competition and the finals series.
She says it was her life-long love of sport, combined with a knack for creating events, that made her think about how she could turn her interests into a career.
'I've always liked organising events and, as the eldest of four children, I think I've always been a bit bossy! But I just loved sport and when a girl from my school, who was a few years older than me, studied sport management Deakin I thought that sounded great. Once I started my studies, I realised how much it matched my personality and interests.'
During her Deakin studies, Jess was able to gain hands-on industry experience via an internship with one of Melbourne's sport player management companies.
Looking back, she says it was a pivotal experience that confirmed she'd made the right study and career choice.
'I loved it. It was a fantastic experience where I had the opportunity to shadow some of the player managers and also take on a wide range of administrative tasks. It gave me real insight into the industry.'
In Jess' fourth and final year at Deakin, she also took part in a 10-day sport management study tour in India and rates it as a stand-out learning experience.
'It was amazing and I still have great friends from that trip. In hindsight I wish I'd taken more of the industry, networking and travel opportunities offered by Deakin but I'm so glad I went. I learnt a lot from a global perspective and made some strong connections,' she says.
Jess advises anyone considering a similar study pathway to make the most of industry and networking experiences while still at university.
'Take advantage of all the great opportunities offered at Deakin. If you want a career in the sports industry you need to make connections, build experience and be proactive about standing out when it comes to getting a job,' she says.
Now into the second year of her sport career, Jess is already notching up a reel of professional highlights and says her participation in the 2019 SSN finals series is among them.
'As the operations representative, I had the opportunity to travel around Australia to all the finals matches. This meant I was the face of the operations team, representing SSN, with the responsibility of attending and troubleshooting where necessary to ensure the best product possible could be delivered' she says.
She adds that one of her first career milestones came only four months into her job with Netball Australia when she travelled interstate as the organisation's only representative to manage the national championships.
'It meant I had to make a lot of decisions on the fly. But I had to take the attitude that "I know my stuff and I just have to roll it out". There were a few sleepless nights and I was a bit nervous, but it all went really well. It was a massive learning curve to know what I was really capable of. Despite the challenges, I made it through and arrived back home with more confidence. It was a real turning point and I knew then that I was definitely in the right career.'
Experiences like this have cemented Jess' confidence in a degree that's provided her with a strong launching point for her career.
'My Deakin studies have definitely been a huge stepping stone into the real world of sport management and business. Beyond my immediate role at work and the scope of my position there are also big-picture business issues that I need understand, and that's where I've been able to draw on my Deakin learning.'
While she's not sure where her future sport management career might take her, Jess is confident that she's working in an industry with plenty of options.
'Women's sport, in particular, is growing and I believe we're only scratching the surface of what women are capable of. I predict there's going to be massive growth in the sport industry in this area,' she suggests.
'I know I still have a lot of learning to do but I've already worked on amazing events and there are always more opportunities at both a national and international level. I love working in sport and I definitely think the passion is something you don't get in any other industry. It's quite amazing and really special.'
Dedicated to sport
Deakin's sport facilities, partnerships and commitment to encouraging more women into the sector is second to none. As an elite athlete-friendly university, our Elite Sports Precinct is second-to-none, featuring an MCG-sized AFL oval, FIFA-grade soccer pitch and eight-lane IAAF 400-metre athletics track. And our Specialised Indoor Exercise and Sport Science Building has some of Australia's most advanced sports and exercise facilities.
Deakin Webinar Series: Finish first in your sport career with postgraduate study
Want to inject more energy and momentum into your career in sport? Dr Lyndell Bruce, Course Director for the Master of Applied Sport Science, reveals the new postgraduate courses on offer for 2020 and talks all things study and sport with Deakin student Ruby Holten.
A home for elite athletes
We're dedicated to supporting elite athletes to achieve academic success alongside the demands of training and competition. That's why Deakin is a member of the Elite Athlete Friendly University (EAFU) Network.
We offer student athletes flexibility for assessment deadlines, leaves of absence to meet sporting commitments, and extensions on the time normally allowed to complete a course.
#1 sport science school in Australia
Deakin's School of Exercise and Nutrition Sciences is a world-leading sports science school, ranked #1 in Australia. Shanghai Ranking's Global Ranking of Sport Science Schools and Departments ranked Deakin the #3 sport science school in the world.***
Latest articles
Learn more about studying sport at Deakin and the career opportunities you can look forward to.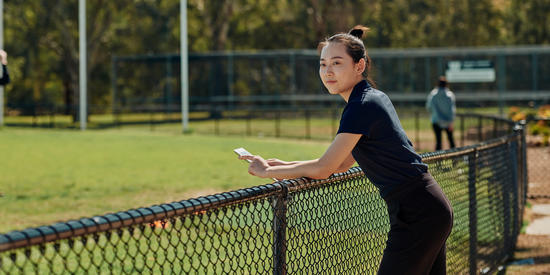 The business of sport: sports development or sports management?
Discover where each course can take you so you can start preparing for a rewarding career in the sports industry.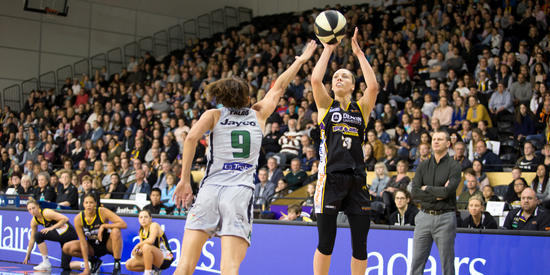 What energises the leading sports management experts?
Learn more about the dedicated teaching staff for Deakin's undergraduate and postgraduate sports management program.
Footnotes
***ShanghaiRanking's Global Ranking of Sport Science Schools and Departments 2020
**SportBusiness International's Postgraduate Sports Course Guide, 2014
+Deakin references data from a range of government, higher education and reputable media sources. For more information, visit our list of media references.