Facilities
Housed in an award-winning and architecturally significant former Woolstores building overlooking Corio Bay, the school's recently refurbished premises provide students with:
modern teaching spaces and computer laboratories
Interdisciplinary Design environments lab (IDeEA lab)
well-equipped, fully supervised workshop
large studio space with 24-hour access
A+B gallery.
Our research
Learn all about the research we carry out across the natural, virtual, human and built environments in both local and global contexts.
We focus specifically on:
sociocultural ecology
construction ecology
urbanism and design
built environment education
building environment.
News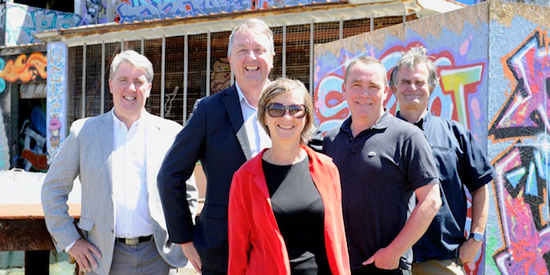 #VacantGeelong project remembering industry through art
28 February 2017
The next phase of Deakin University's #VacantGeelong project is set to bring together artists, the Geelong community, past Ford workers and Deakin architecture students after receiving State Government funding.
A+Blog
Stay up to date with the latest news from the School of Architecture and Built Environment. Find out what's happening at the school and what our staff and students are up to.
Staff listing
Find a staff member or browse the school's full list of staff.
Contact us
School of Architecture and Built Environment
+61 3 5227 8300
Email the school
Geelong Waterfront Campus
Building D, level 4
1 Gheringhap Street
Geelong, VIC 3220
Write to us
School of Architecture and Built Environment
Deakin University
Locked Bag 20001 Geelong,
Victoria 3220