Deakin University Vice-Chancellor reappointed
26 June 2014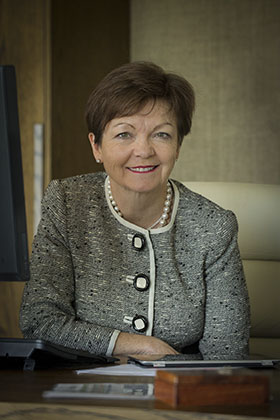 The Chancellor of Deakin University, Mr David Morgan, today announced the University Council had approved the reappointment of Professor Jane den Hollander as Deakin's Vice-Chancellor and President for a further five years from 1 July 2014.
Mr Morgan said the Council was delighted to reappoint Professor den Hollander and looked forward to seeing what Deakin will achieve under her continued leadership in the years ahead.
"Jane has provided inspirational and highly effective leadership to Deakin University at a time of significant change to the tertiary sector," Mr Morgan said.
"During her stewardship, Deakin's reputation and standing in the community has significantly strengthened.
"Deakin has been the highest ranked Victorian university each year for overall student learning satisfaction and student numbers have grown 26 per cent to a projected 50,000 by the end of 2014."
Mr Morgan said Professor den Hollander's reappointment would enable her to continue to implement the LIVE the future: Agenda 2020 strategic plan, which has been embraced by staff, helped to differentiate Deakin and provided strong direction for the University.
In accepting her appointment, Professor den Hollander said she was honoured to continue her role as Vice-Chancellor at a University with such a strong commitment to teaching and research excellence, access and participation and regional engagement.
"Deakin University was recently ranked number one in Victoria and 59 in the world by the Times Higher Education's list of the world's top 100 universities under 50 years old.
"This is a stunning achievement and a great credit to the values and commitment of Deakin University staff, researchers, students, communities and industry partners.
"When I accepted this position in 2010, I said I believed in the transformational effects of education and the capacity of universities to contribute to community capacity, creativity and resilience.
"It is a privilege to lead a University that is strongly positioning itself to help drive a culture of innovation, creativity and excellence while remaining true to its founding values of inclusion and access to those who seek a good education.
"I am very proud of our growing reputation as a University of choice for students, our growing research output and strong financial sustainability. I look forward continuing this journey with our great team at Deakin so we meet the future with confidence and do what we do best: educate our graduates for the jobs of the future and make a difference to the communities we serve."
Media contact
Sarah Dolan
Director, Media Relations and Corporate Communication
03 9246 805, 0400 669 164
Email Sarah

You might also like:
---
---
---
---
---
Page custodian: Vice-President (Advancement) Last updated: