Cognitive Neuroscience Unit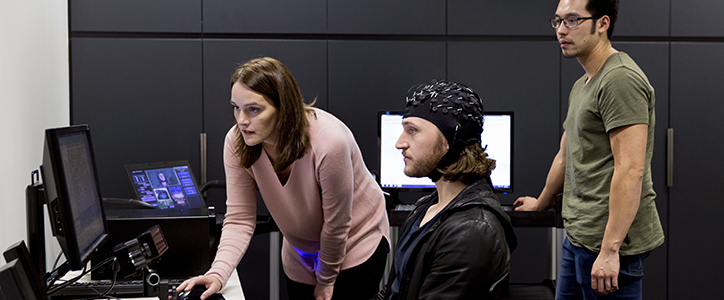 As part of the School of Psychology, the Cognitive Neuroscience Unit (CNU) uses cutting-edge human neuroscience techniques to investigate the relationship between brain function, behavior, and cognition among healthy and clinical populations.
Featured Research Programs
The CNU currently has three primary programs of research, which are centred on neurodevelopmental disorders and associated cognitive neuroscience:
Techniques
We have a primary focus on non-invasive brain stimulation, but employ a range of modern neuroscience techniques in our labs at the Melbourne Burwood Campus, including:
Transcranial magnetic stimulation (TMS)
High-definition transcranial direct current stimulation (HD-tDCS)
Electroencephalography (EEG)
Electromyography (EMG)
Infrared eye tracking
Near infrared spectroscopy (NIRS)
Zeno Gait analysis walkway
We also conduct neuroimaging research (functional magnetic resonance imaging, position emission tomography) at nearby facilities.
Research Opportunities
If you are interested in taking part in any of our studies, please contact Ms. Charlotte Davies.
---
Visit us on Facebook and become friend of the CNU:
Page custodian: Faculty of Health Last updated: