Discover the psychology and mental health course for you
Undergraduate
Undergraduate (your first degree)
An undergraduate degree is generally completed between two to four years, depending on the pattern of study and any recognition of prior learning you may have. Associate degrees, bachelor and bachelor with honours are all undergraduate degrees.
Postgraduate
Postgraduate (further study)
A postgraduate qualification can be undertaken by students who have already completed an undergraduate degree or possess significant, demonstrable work experience. Postgraduate courses include graduate certificates, graduate diplomas, masters and PhDs, as well as specialist programs for industry professionals.
Research
Higher Degrees by Research (supervised research)
Research degrees are research based master's or PhD programs that focus on a single area of expertise. They provide students the opportunity to carry out highly specialised research under expert supervision.
Join the #1 Victorian university for course satisfaction
You can confidently choose Deakin. Our psychology and mental health courses are recognised by industry, recommended by your peers and will make you a highly sought-after graduate. Deakin is the only Victorian university to offer psychology majors at the undergraduate level.
Disciplines within psychology and mental health
Take the next step to a brighter future
Explore our psychology and mental health courses and find out more about life at Deakin. Learn about the diverse career opportunities available in one of the strongest growth areas within the health and social services sector.
Download our study area guide
Study at Deakin and be rewarded with new skills that will give you an edge in the job market
By submitting this form, I agree to Deakin University's Privacy Policy. I agree that a Deakin representative may contact me by email, phone and SMS in relation to my enquiry and to provide further information about its programs.
Choose a psychology degree that will make you work ready
Eligible for professional recognition and equipped with hands-on industry experience, our psychology and mental health graduates embark on a wide variety of careers, working for organisations such as Barwon Health, Cancer Council, Corrections Victoria and Monash IVF. Be in demand as soon as you graduate, with a degree from Victoria's #1 university for undergraduate employment.
Learn in the real world
You'll have opportunities to undertake industry experience while you complete your course. The School of Psychology has valuable links with diverse workplace partners. Practical experience is one of the most valuable skills sought after by prospective employers.
Enjoy strong industry connections
Our strong ties with industry, government agencies, public and private organisations, hospitals and other universities ensure our psychology and mental health courses are relevant to workforce needs. You'll learn from industry-experienced academics and benefit from networking opportunities to help you graduate confident and ready to make a positive impact.
Explore diverse careers in health and social assistance
The job growth for psychology, counselling and the wider healthcare system has already exceeded Australian Government employment projections for 2026.* A psychology qualification will open doors to many exciting career paths. Become a registered psychologist, pursue research aspirations or apply your skills to other fields such as human resources, marketing, career coaching or youth work.
Tailor your degree to your interests
We're the only Victorian university where you can study specialist psychology majors during your undergraduate course. Pursue majors in child and family, organisational studies or forensic studies and get a head start on your dream career.
Every core and elective unit I chose was led by amazing lecturers and teaching staff who were incredibly passionate about their topics, their students and providing a safe place to ask questions.
Emily Brown
Bachelor of Psychological Science graduate
World-class teaching experiences 
In psychology we draw on the 'human element', the ability to listen and empathise, when engaging in world-class teaching and learning experiences. At Deakin, we emphasise learning from real life so you're work-ready.
Get professional recognition
Our psychology courses are recognised by the Australian Psychological Society (APS) and Psychology Board of Australia (PsyBA), and are accredited by the Australian Psychological Accreditation Council (APAC). Being professionally recognised means you'll graduate with excellent career opportunities.
Make your research mark
As a research student, doors will open to collaborations with our partners including hospitals, businesses, local communities and support centres. Our expert supervisors will guide your enquiry into human behaviour and help you make your mark in the research world.
Psychologist registration pathway
Find out how Deakin's diverse study options can set you on the right path towards registering as a psychologist.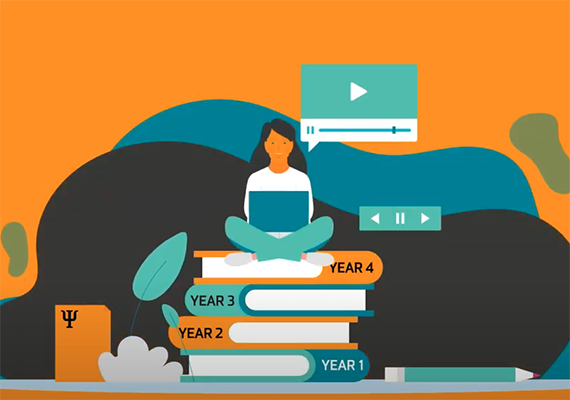 Want to explore more?
If you're dreaming of an exciting and rewarding career in psychology or mental health, we'll help get you there.
What's the difference between psychology and counselling?
The one year bridging course that leads to a career in psychology
Why study psychology at Deakin? How to choose the best degree for you
Footnotes
Deakin references data from a range of government, higher education and reputable media sources. For more information, visit our list of sources.
* National Skills Commission employment projections 2021
Got a question about our psychology and mental health courses? Our expert advisers are available to speak to you about your study options and how we can help you further your career.