Study Psychology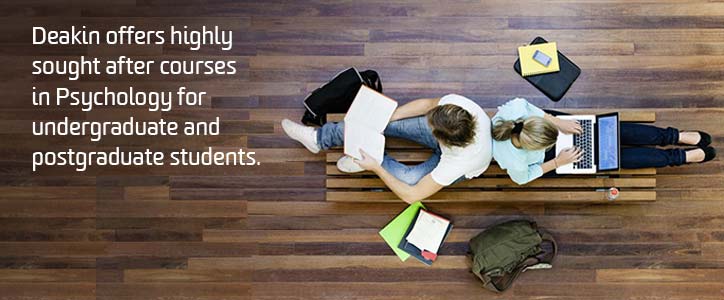 Deakin School of Psychology is renowned as a national and international leader in providing flexible learning options.
Watch some of our current students discuss their experiences studying psychology at Deakin University.
---
Studying psychology at Deakin gives you entry into one of the fastest growing and most diverse professional fields. Deakin offers professionally accredited psychology courses at all campuses as well as providing cloud (online) study options. Students learn from enthusiastic teachers and internationally recognised researchers, as well as having the opportunity to take part in relevant work experience.
Students who successfully complete an undergraduate degree can enrol in an approved 'fourth year' of study in psychology (either the Graduate Diploma of Psychology or honours in psychology). Completion of a fourth year is required for provisional registration with the Psychology Board of Australia. The fourth year combines coursework and an in-depth research project with an academic supervisor.
---
Deakin provides accredited professional training for students seeking to work as registered psychologists. Masters level courses are available in clinical psychology and industrial and organisational psychology. A professional doctorate course is offered in clinical psychology.
Deakin offers an exciting program of research in psychology with expert supervisors, connected to national and international research teams, who make a real difference to people's lives. A higher degree by research is a gateway for students to cutting edge knowledge in a chosen field and opens doors to a variety of career opportunities.
Research in the Doctor of Philosophy may be supported in a number of areas including: clinical psychology; health and forensic psychology; social and mental health; adolescent health; risk behaviours; body image and disordered eating; drugs and alcohol; eye-witness testimony, and more.
Study on-campus and online
Our undergraduate program is entirely available both on-campus and online, so students can choose to study face-to-face or in the cloud environment or a mix of both. 'Online' no longer means 'alone': the same level of interaction and support from our staff is available regardless of the mode in which any student chooses to study.
Fast track your degree
The Deakin trimester system allows students to fast-track their degree, and it is possible to complete an entire psychology degree in just two years. On the other hand, you might choose to space your study out over three trimesters in a year, to allow you to progress consistently, but part-time, while you work or parent.
---
Page custodian: Faculty of Health Last updated: