Internationalisation and Global Engagement
Co-creating a program of patient safety research and training with researchers from the Royal Kingdom of Bhutan
WHO Patient Safety (a global research program of WHO) has identified patient safety 'as a global issue affecting countries at all levels of development'. Commensurate with this observation, patient safety research and training have been designated as global imperatives. WHO Patient Safety explains, 'understanding the magnitude of the problem and the main contributing factors is essential in order to devise appropriate solutions'. It further explains that understanding the local cultural context of patient safety initiatives and how best to enable the adaptation of 'effective, appropriate and affordable solutions', particularly in countries that are under-resourced, is also essential. To this end WHO Patient Safety has identified a number of global priority areas, i.e., 'where there are substantial knowledge gaps' and where 'further knowledge would significantly contribute to improving patient safety and reducing harm'.
Bhutan is currently facing the challenge of developing mechanisms for examining patient safety issues in its hospitals and devising appropriate solutions to the problems identified. In keeping with WHO Patient Safety designated global priority areas, QPS and its collaborating partners are committed to working with the Royal Institute of Health Sciences (RIHS) in Bhutan to co-create a program of Research and Training in Patient Safety and Quality Care. In 2013, QPS hosted a visit by Dr Chencho Dorjee, Director of the RIHS , Bhutan, and Dr Neyzang Wangmo, Dean (Research and External Linkages) of RIHS. The purpose of the visit was to commence collaborative work with QPS researchers on co-creating a program of patient safety research and training for future research funding and other related initiatives.
The key objectives of the week long collaboration forum (which included face-to-face meetings and field visits), were to:
Develop a common understanding of the WHO global agenda for patient safety and quality care in resources and data poor nations
Develop a mutual, culturally informed and comparative understanding of patient safety processes and concerns in Bhutanese and Australian hospitals
Discuss the vision and mission of the 'Patient Safety Beyond Borders' (PSBB) initiative being led by Deakin-QPS
Explore challenges and opportunities for collaboration to develop and progress patient safety research and training programs/projects using:


Methodologies for developing locally adapted (culturally appropriate) solutions
Processes for ensuring equity and sustainability

Discuss processes for co-developing a strategic plan and action agenda (time permitting draft a preliminary plan)
Identify preliminary projects and resources
Build relationships with new colleagues and prospective partners
QPS is currently in the process of planning further activities to progress its collaboration with RIHS. This has included Professor Megan-Jane Johnstone, undertaking a study tour in Bhutan, where she met with officials in the Ministry of Health and presented a series of lectures to RIHS and hospital staff on advancing patient safety in resources and data poor nations. Following the Bhutan study tour, Professor Johnstone travelled to Thailand where she engaged in a similar forum with colleagues at Mahidol University, Bangkok. During her visit she presented a series of lectures to researchers and PhD students in the Faculty of Nursing on processes for advancing patient safety education and research in the ASEAN, South and South East Asian region. A highlight of the forum was QPS hosting the signing of a Memorandum of Understanding (MOU) between Deakin University, School of Nursing and Midwifery and RIHS.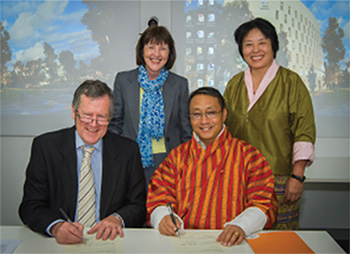 Front left to right: Executive Dean Faculty of Health Professor Brendan Crotty, Dr Chencho Dorjee (Director, RIHS, Bhutan). Back Left to right: Prof Maxine Duke (Head, School of Nursing and Midwifery), Dr Neyzang Wangmo (Dean, Research and External Linkages, RIHS, Bhutan)
Page custodian: Deakin Research Last updated: