The Deakin Software and Technology Innovation Lab is gearing up with many industry collaborations.
Taking a photo of your own four wheel drive and visualising how it looks with new accessories such as bull bars, auxiliary lighting or tyres, and then ordering the products on-line in real time, is a dream come true for 4WD enthusiasts – and one example of how technology is changing our lives.
Breaking new ground in on-line customisation in Australia, the underlying technology for the "My Ultimate 4WD" app has been developed by a team of Deakin researchers, in collaboration with Kiandra IT, and My Ultimate 4WD (a private company), with funding from industry and a Commonwealth research connections grant.
The Deakin team, who called on the latest in computer vision technology, are beginning to make their mark in a state-of-the-art lab at Deakin's Burwood Campus.
The 31-member team, including data scientists, researchers, software engineers, honours students, PhD and post-doctoral fellows, now make up the Deakin Software and Technology Innovation Laboratory (DSTIL).
They are the only IT lab in Australia that offers research and development/innovation as a service to industry.
The multidisciplinary team draws on advances in computer vision, virtual reality, machine learning, artificial intelligence, Internet of Things, 3D modelling, software engineering, signal processing, mathematical modelling and simulation, as well as human computer interaction, to support their activities.
DSTIL is collaborating on projects with a diverse range of internal and external collaborators. These include: Deakin's Centre for Pattern Recognition and Data Analytics (PRADA) and Institute for Intelligent Systems Research and Innovation (IISRI), The Alfred Hospital, National Trauma Research Institute, the Department of Defence, Samsung Australia, hospitals in China and India, and Mailguard, one of Australia's leading cyber security organisations.
One project with strong potential to make a difference to people's lives began with the "Dementia Friendly"project. The project aims to improve the quality of life for people with dementia, most of whom live within their own home. DSTIL collaborated with Alzheimer's Australia – Victoria to explore ways to make a home more accessible to someone with dementia.
This project led to the development of a tablet application targeted at carers that employs gaming technology to provide an interactive, educational experience through a three-dimensional home.
The application is available for download through the Apple App Store and Google Play Store.
DSTIL Director Professor Kon Mouzakis said that Deakin was providing the team with "a wonderful opportunity for growth and career development for lab staff."
"We are preparing for a new stage of growth, with Deakin giving us the flexibility to support larger projects and tap into existing research centres at the University, like PRADA, the Centre for Cyber Security Research and IISRI," Prof Mouzakis said.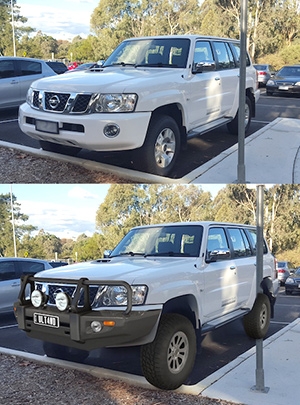 Key Fact
The 'My Ultimate 4WD' app allows 4WD owners to see how accessories will look on their own car.
---
Related News
13 October 2017
With a new team at the helm, Deakin's Centre for Cyber Security Research is contributing to research to help protect Australians against cybercrime.
21 July 2017
A Deakin-led ARC Industrial Transformation Research Hub will develop new technologies to improve life for the elderly.