STAR
STAR (Student Timetable Allocation and Registration) is a personalised timetabling system that allows students in campus based units to register online for classes and seminars etc.
Prior to the commencement of each teaching period all students enrolled in campus based units must login to STAR via StudentConnect to register their preferences for activities.
STAR does not operate on a "first come - first served" basis. Whether you enter your preferences on the first or last day of preference entry, you have equal chance of getting your preferences.
When logging out of STAR, please ensure your session of StudentConnect is also
logged off and close your browser session.
STAR dates
Activity or mode
Trimester 1 2017
Trimester 2 2017
Trimester 3 2017
Opens - preference entry mode
Students enter preferences for scheduled classes.
Monday 6 February 10 am
Monday 19 June 10 am
Monday 23 October 10 am
Closes - preference sort
Closes to sort preferences and allocate students.
Wednesday 15 February 10 am
Wednesday 28 June 10 am
Monday 30 October 10 am
Re-opens - allocation adjustment mode
Students can view personalised timetable and make adjustments instantaneously.
Thursday 16 February 10 am
Thursday 29 June 10 am
Tuesday 31 October 10 am
Trimester begins
Monday 6 March
Monday 10 July
Monday 6 November
Last day to add campus based units
Sunday 19 March
Sunday 23 July
Sunday 19 November
Closes for final sort
A final sort will be run to assign any unallocated students to remaining available timeslots.
Monday 20 March 10 am
Monday 24 July 10 am
Monday 20 November 10 am
Re-opens - read only mode
Monday 20 March 5 pm
Monday 24 July 5 pm
Monday 20 November 5 pm
STAR help
How does STAR work?
How does STAR work?
Once you log in to STAR, your current enrolment details are shown along the left-hand side of the screen. Each unit lists the activities you are required to attend (Class, Seminar, Practical etc.).
Each activity could contain a number of options, of which you must attend one. Where there is only one option, you will be auto-allocated to that activity.
Your task is to select each activity in turn and either register your preferences or change your allocation, if required.
Preference Entry
In this mode you may select what activities you would prefer to attend. The system will not allocate you a seat at this time, instead it will collect all your preferences and those of fellow students and attempt to allocate you to your preferred activities wherever possible.
The preference entry mode is NOT first come first served. Whether you enter your preferences on the first or last day of preference entry, you have equal chance of getting the place you prefer.
Note: Preferences can be changed at any stage while the Preference Entry window is open Entering Preferences
When you select an activity group, you will be shown a list of the available timeslots. To register your preferences, you must select a number between 1 and 10 in the boxes provided in preference order. The number one (1) indicates this is your first preference, two (2) is your second preference and so on. There is a minimum number of preferences you must choose. The number required will be displayed when you select the group, usually it is 4.
Auto Allocation
If the activity group is labelled as auto allocated, this means that there is only one possible selection and this will be allocated for you.
Allocation Adjustment
When a subject is in Allocation Adjustment mode, you may alter your allocation where changes are instant. When you select an activity group, your current allocation is shown (if any) along with timeslots that still have free places. You may then change your allocation by simply clicking SELECT on the free place.
Note: Once you change to a new activity, your old allocation is then made available for another student!
How do I access STAR?
How do I access STAR?
You can access STAR through StudentConnect using your normal student username and password. The link to STAR can then be found on the left hand menu.
If you haven't activated your username and password, or have forgotten it, visit usernames and passwords.
STAR can be accessed on a PC, Tablet or Mobile Phone.
If you're having trouble logging into STAR (Student Timetable Allocation and Registration) it could be because you're not enrolled into any units for the current Trimester. You should also check out the opening and closing dates for STAR to see if you're too early. If you have enrolled for the current Trimester and still can't access STAR then contact Student Central for assistance.
At times during the Trimester, STAR closes for Sorting of Preferences, and Forced Sorts. At these times STAR cannot be accessed and you cannot add or change preferences. Please refer to the STAR Timelines for dates when STAR is closed.
STAR logout fail
If your web browser isn't logging out of STAR (Student Timetable Allocation and Registration) correctly you should contact IT Help for advice.
Frequently asked questions
Deakin publishes the academic timetable approximately 4 weeks before STAR opens for each study period. This timetable is subject to change as students are still enrolling in units and staff and room availability may change in response to this. It may be useful to refer to this timetable to begin planning, but it is only through STAR that you can allocate yourself to a class and receive a timetable. Learn more at class timetables.
If you enrol in additional units while Preference Entry mode is open, you will need to login to STAR again and enter preferences for your newly enrolled units. If you enrol in additional units during Allocation Adjustment mode you will need to login to STAR and register based on remaining available timeslots.
Changes to enrolment can take up to 1 hour to appear in STAR.
If you perform a course transfer and the units you are transferring to are identical to your original units of study you will not need to register again for your activities. If you have new units you will need to login to STAR and register for your activities.
Sections are used when students are required to attend two or more particular repeating activities. For example, if a student allocates themselves to a section which contains a seminar and a practical, they will be required to attend both of these activities at the given times. This seminar and practical are referred to as a section.
Sections can be quite large, so when entering preferences for Sections ensure you know beforehand what you want to enter to alleviate time out issues.
To enter preferences for a Section, Where there is a "1" within the section, these do not need to be touched, simply select a preference number for the overall group.
Enter a minimum of 4 preferences (if available) by placing the number 1 to 4 in the box to the left of the activity time (see example below). Click on Save when you are finished.
You will be automatically allocated to Activities where there is only one option. It doesn't matter which order you make your other preference selections, eg Classes or Seminars.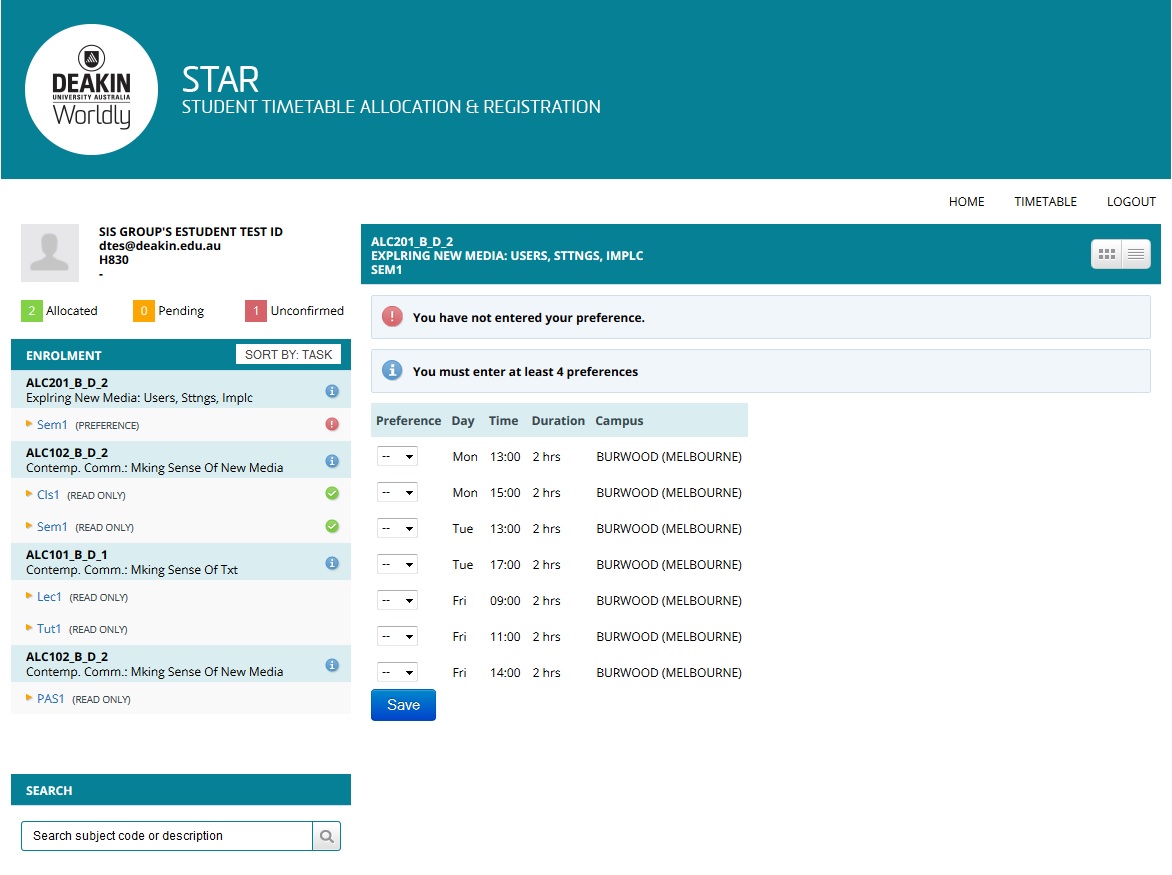 If STAR displays "no groups available" on your unit, and you are a post-graduate student, please contact your faculty directly.
If you are an under-graduate student, please contact Student Central for further advice.
Login to STAR and select the Timetable link from the top of the screen. Your personal timetable will display in grid format by default. To change to list format click on the "show as list"

button.
You can change your allocation by clicking on the activity listed on the left hand side to display your allocation and the other available timeslots. Click "SELECT" to select a different timeslot. A confirmation message will appear confirming your change was successful. If you cannot view your allocation, please contact Student Central
The process for changing allocation using your phone or tablet is the same as if you were using a PC.
The process for entering preferences using your phone or tablet is the same as if you were using a PC.
You can view your timetable under the 'Timetable' link after the sort is completed and Allocation Adjustment opens. Check the STAR timeline to view when Allocation Adjustment opens for the current trimester. When STAR is in Read Only you can still view your timetable but you cannot make changes.
You may find you have not been allocated to an activity due to it clashing with another one of your activities. If this is the case and you are unable to select another time slot, contact Student Central to be directed to the appropriate Faculty contact.
At the close of Allocation Adjustment mode a forced sort will be run to assign any unallocated students to remaining available time slots.
STAR will only display units that have scheduled activities. Units that are offered in Cloud (online) mode do not have activities and thus will not be visible on STAR.
If you have just enrolled in a unit, changes to enrolment can take up to 1 hour to appear in STAR.
During Preference Entry mode, if there is a change to the time or day of one of your preferences, that preference will become invalid and the next available preference will be selected.
During Allocation Adjustment mode, if there is a change to your activity, you may need to allocate yourself to another available activity time. An automatically generated email will be sent to all affected students if:
there is a change in activity start time
there is a change of day or
the activity has been cancelled.
PASS stands for Peer Assisted Study Sessions. They are interactive 50-minute weekly sessions designed to help students succeed in difficult subjects mainly in first year units. There is no reteaching and the sessions are designed to encourage collaborative learning.
PASS runs for ten weeks, starting in week two through to the end of the trimester. The sessions are generally offered before or after a class. Sessions are voluntary, however lecturers strongly encourage their cohort to attend
Only units for the current trimester will be available for selection on STAR (Student Timetable Allocation and Registration). STAR will show units which aren't part of the current Trimester as switched off. If you are still worried, then you can contact Student Central for some assistance.
Your Seminar and Class locations will show in the Timetable view in STAR. Click on the activity for further information, including location.
Each class or seminar will start on the hour and finish 10 minutes to the hour. This should leave you with enough time to make your way to your next location.
The iCal feature is located at the bottom of the home page within the STAR system. When you click the iCal link it will overlay your timetable into the calendar on your device. Make sure you regularly download your timetable via iCal so the latest version is on your device and any changes or updates are applied.
Page custodian: Division of Student Administration Last updated: