Student Central
Student Central is your starting point for questions about your Deakin studies.
Talk to us at a Deakin campus, over the phone or web chat.
Explore Deakin's online services that can help you with your student needs.
We can help you with your questions relating to your Course, Exams, Fees and more.
Visit us at our campus locations where we are happy to talk with you and provide the advice that you are after.
Email us
Call us
Monday - Friday : 8.30 am to 8 pm
Saturday : 10 am to 2 pm
Melbourne
Geelong
Warrnambool
Cloud Campus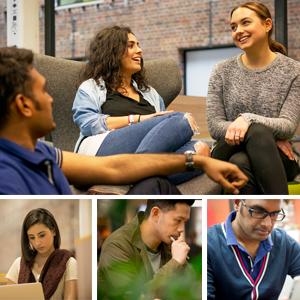 Online services
We can help with
Letter requests and documentation: Student Central can provide letters and documentation on course completion, evidence of enrolment, graduation, inter-trimester break, travel concessions and progression letters.
Special consideration: Special consideration may be granted for acute medical, compassionate or hardship/trauma grounds by your faculty.
Student financial assistance: Students experiencing financial difficulty have access to a range of services including interest free loans, emergency essentials, Myki cards and help planning a budget.
Campus locations
Our Student Central on campus hubs are open during normal business hours. If you need us after 5 pm, you can call us until 8 pm Monday to Friday, and between 10 am and 2 pm on a Saturday.
Student Central Hubs
Central Precinct, Building HE, level 2
Building M and N atrium, level 1
Building Y, level 1
Elgar Rd, LB, level 2
Melbourne Burwood Campus map (PDF 1.50MB)
Opening hours
8.30am to 5pm, Monday - Friday
Cloud Campus
Contact hours (AEST)
8.30am to 8pm, Monday - Friday
10am to 2pm, Saturday
Email
Phone
13 DEAKIN or 13 332513 DEAKIN or 13 3325From overseas +61 3 924 46333
---
Third party permission
You can also nominate a third party (e.g a parent) to act on your behalf. To do this email Student Central who will provide you with further details.
Page custodian: Division of Student Administration Last updated: