Honours in Life and Environmental Sciences
Honours provides an important year for learning and improving scientific skills in research design and implementation, critical thinking and data analysis, digital literacy, and scientific communication. These skills are recognised by employers as essential in the workplace and therefore can make you more employable. A Honours degree also exposes you to research of national and international significance. It can also lead to further study as a postgraduate student, undertaking Masters or PhD level research.
Application dates and Coordinators
Application Dates for 2017
Commencing Trimester 1 2017 applications close: Monday 9 January 2017
Commencing Trimester 2 2017 applications close: Monday 26 June 2017
Honours Coordinators can help discuss with you the Honours program, answer any general queries and discuss your project ideas:
In addition, a faculty course adviser can assist with information about entry into Honours.
Project booklets and information
Please note, project booklets may be updated as additional projects become available.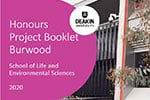 Burwood Project Booklet 2017
PDF
(PDF, 417.6 KB)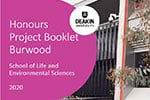 Geelong Project Booklet 2017
PDF
(PDF, 723.1 KB)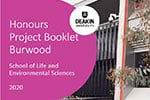 Warrnambool Project Booklet 2017
PDF
(PDF, 446.5 KB)
How to apply
The first step in securing a place in the program for 2017 is to contact supervisors and discuss projects.
When you have met with a supervisor and agreed on a project, please apply at the online application portal.
In addition to applying via the applicant portal, you also need to complete the 2017 Honours Application Form (PDF, 95.2 KB)
Application forms must be completed and signed by the nominated Supervisor and submitted to the relevant Course Adviser on that campus by the application closing date.
Page custodian: Faculty of Science, Engineering & Built Environment Last updated: