Enrol, defer, withdraw or transfer
Whether you are enrolling, re-enrolling or making changes in your enrolment, you need to complete the appropriate steps.
Enrol and re-enrol
The enrolment process is similar for different types of students - all students need to select their units, enrol using StudentConnect and complete the relevant administrative tasks.
Please CLICK the appropriate enrolment section for more details.
---
Defer your offer
Deakin normally allows you to defer the commencement of most courses for up to 24 months (International students may only defer for a maximum of 12 months, at which time your application will be re-assessed). This means you can postpone your studies but still retain your place at the University.
If you have already enrolled and then decide you want to defer, you need to contact your faculty enrolment officer to see if you can 'intermit' your course.
How to defer
If you received an early round, round 1 and/or round 2 offer, you can choose to defer your offer(s). Negotiated offers can't be deferred. To defer, complete the online deferral form.
If you are unsure about whether to defer your offer, speak to a Faculty Course Adviser. If you decide to defer your offer, you don't need to attend a Faculty Course Information session.
When you successfully complete your deferral online, it will issue you with a receipt number. Deakin will then email you in November prior to your commencing year to advise when it's time to enrol. To ensure you receive this correspondence, make sure that we have your current postal and email addresses at all times and if you need to update this please email us at enquire@deakin.edu.au
If you wish to defer your Direct offer from Deakin, complete the Deferral of Offer Form and return it within five days of receiving your offer. If you have decided to defer, do not accept or enrol.
If you are unsure as to whether you wish to defer your offer, speak to a faculty course adviser. You will be sent a confirmation email once your deferral is processed.
When you are due to commence your study, you will be sent an email with enrolment advice. Please ensure that we have your current postal and email addresses at all times.
Please note the following courses below do not allow deferrals:
H450 Bachelor of Science (Psychology) (Honours)
H451 Bachelor of Arts (Psychology) (Honours)
H452 Bachelor of Applied Science (Psychology) (Honours)
H650 Graduate Diploma of Psychology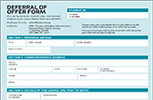 PDF
86 KB
International students who wish to defer the commencement of their course prior to enrolment should contact the staff member listed on their Letter of Offer.
Reject your offer
If your offer was direct from Deakin , indicate on the Applicant Portal that you don't wish to accept your offer.
If your offer was from Deakin International , contact them to formally reject the offer.
---
Intermit or withdraw from your course
Intermitting
Intermission means suspending your studies at Deakin while keeping your place in the course. Intermission is normally granted for a maximum of 12 months of the duration of a course.
Students who want to intermit their studies for financial, health or other reasons should discuss their situation with their faculty course adviser. International students who want to intermit should visit the international intermission compliance page.
We recommend that you talk to a Deakin careers counsellor to plan and get the most out of the period of intermission. For example, if you need to work full time to save some money before continuing your studies, it would be good to work in an area related to your course - you might even be able to earn credits towards your course.
You apply for intermission in StudentConnect (under the Enrolment heading).
Allow up to 10 days for processing of your application for intermission. You will be notified by email of the outcome. You can also check on your application by clicking 'View course' in StudentConnect.
If you are thinking about intermitting your course, you should check the withdrawal dates, academic penalties and fees and make sure you do it before census date. (Intermitting your course is effectively withdrawing from each unit you are enrolled in for a particular trimester or year.)
If you intermit after census date you will be liable for the full amount of your fees, including the student services and amenities fee. International fee-paying students may be liable for a retention fee if they discontinue. Students will also incur an academic penalty, which will appear on your transcript.
Withdrawing
Withdrawing from a course of study (discontinuing) is a serious matter. We recommend you discuss your decision with a student counsellor, faculty course adviser and/or a careers counsellor who will be able to advise on alternative study or career options. International students who want to withdraw should visit the international discontinuation compliance page.
If you are thinking about discontinuing for financial or personal reasons, we recommend that you seek counselling and financial advice - you may be eligible for financial assistance or special consideration, which may enable you to continue studying.
Instead of withdrawing altogether you should consider intermitting until your circumstances improve or transferring to another course.
If you do decide to discontinue your studies at Deakin, you should apply online through StudentConnect. Allow up to 10 days after for processing and you will be emailed confirmation of withdrawal.
Accepting a later offer
If you accept a later offer to a different course at Deakin (or another institution), it's very important that you withdraw from the first course you enrolled in, otherwise you may be liable for outstanding fees.
---
Transfer from your course
If you want to apply for a course transfer you need to complete a Course Transfer application form and submit it to the faculty of your first preference.
Submission of the application does not guarantee a course transfer. Selection is based on availability of places and academic performance.
Before applying, you should contact a faculty course adviser for advice. You may also need to seek advice from the selection officer of your intended course. You can find out who the selection officer is by contacting your faculty support office or faculty course adviser.
Course Transfer application form
PDF
125 KB
Note that you must still re-enrol in your existing course by the faculty deadline, even though the outcome of your transfer may be pending.