Engineering
Create a successful career in engineering. Our engineering degree courses focus on the employability of our graduates and the future needs of industry.
---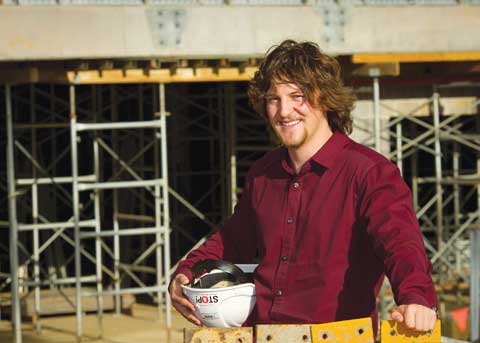 Student snapshot
Jake Kays
Bachelor of Engineering - Civil major/Bachelor of Commerce (major sequence in technology management)
Geelong Waurn Ponds Campus
'One of the things I enjoy most is that we get to do both theory and practicals. The civil engineering labs have just had a face lift and look great.
'With the new equipment, we have completed fluid mechanics practicals and explored what we learnt in theory.
'When I graduate I want to pursue a career as a structural engineer. I love how buildings, bridges and structures constantly push the boundaries of science and technology and I want to be a part of building the future.'
---
What can I study?
We offer four major sequences - civil, electrical and electronics, mechanical, and mechatronics and robotics - allowing you to concentrate on the aspect of engineering that interests you most.
Engineering Science
Deakin also offers a Bachelor of Engineering Science that brings together studies in engineering, physiology, exercise, and sport science in a qualification that could lead to a variety of exciting career opportunities in the fields of sports or medical technology, with a focus on human performance. Students specialise in one of the following areas:
Sports technology - electrical
Sports technology - mechanical
Medical technology
---
Why study engineering at Deakin?
Industry learning in engineering
Engineering students can experience the workplace throughout their course of study. You may choose subjects which take you into the field, place you in industry or offer internships.
Industry Based Learning (IBL) involves working full or part time in industry as part of your degree program and plays a valuable role in preparing for graduate employment.
The placement is incorporated into a unit of study and credited towards your degree, and provides the opportunity to apply and consolidate knowledge gained at university, experience workplace culture and work practices, explore career options and develop a professional network.
First-class facilities
As a Deakin engineering student you will have access to recently refurbished, fully-equipped laboratories and cutting-edge computer-aided software that is used in modern industrial workplaces.
Accessible lecturers help you get the most out of your university education and provide a friendly learning environment.
Research and teaching excellence
Learn from world-standard reserchers. Engineering at Deakin is different as it is research led, rather than simply research informed. Deakin is a significant leader in the number of engineering focused research areas, most notably manufacturing and materials.
Engineering research themes: Sustainable Infrastructure, Advanced Design and Manufacturing, Health and Education.
---
Careers for engineering graduates
Deakin's Bachelor of Engineering is accredited by Engineers Australia, which gives the degree international recognition, allowing graduates to practise as a professional engineer in many countries around the world.
Career opportunities for graduates include, but are not limited to, industries such as:
automotive
manufacturing
electronics
telecommunications
power generation and distribution
construction
mining
resources
aeronautical
aerospace
water resource management
railroad and ship building.
---
Study overseas
Give yourself the competitive edge with a Deakin Study Abroad Program. Discover and live in a new country and make friends all around the world. With a Deakin Education Abroad program, your degree can take you where you want to go.
Exchange and Education Abroad programs are available to all students, including international, postgraduate and off-campus students.
The Faculty of Science, Engineering and Built Environment is introducing the new Global Science and Technology Program to help high-achieving students add an international experience to their studies.
---
Engineering courses
View all engineering courses at Deakin. Courses include but are not limited to:
Undergraduate studies
Bachelor of Engineering
Bachelor of Engineering / Bachelor of Commerce
Bachelor of Engineering / Bachelor of Information Technology
Bachelor of Engineering / Bachelor of Science
Postgraduate studies by coursework
Postgraduate studies by research
Master of Engineering
Doctor of Philosophy